Five-star LB Harold Perkins: 'Electric playmaker' for LSU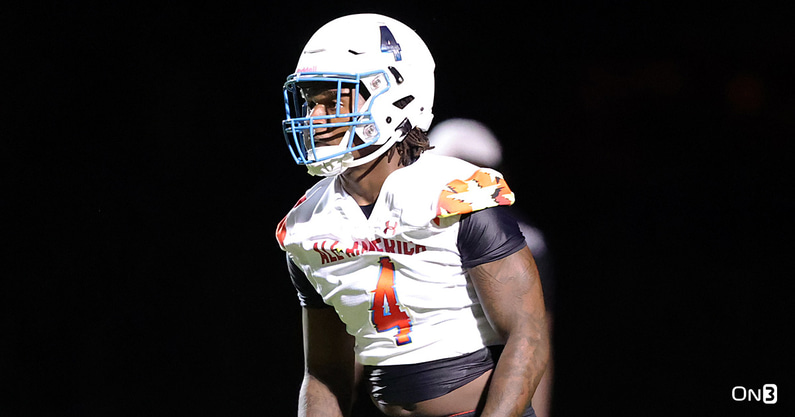 Harold Perkins' recruitment has been fluid, but in the end, the five-star linebacker made his way back home.
Perkins, the nation's top uncommitted player, signed with LSU as first-year Tigers coach Brian Kelly edged out Florida for the one-time Texas A&M pledge, who reopened his recruitment days after announcing in favor of the Aggies at the Under Armour All-America Game last month.
Perkins originally hails from New Orleans and has family in and around The Boot. The chance to play his college football is another example of Perkins' fantastic character away from the field.
"We all know Harold is a great competitor and athlete. However, his most enduring traits are off the field," Cypress Park head coach Greg Rogers told On3. "He's someone people are drawn to and want to be around. His teachers, coaches and admin all know him and love him."
"Great things are ahead for Harold," Rogers continued. "It's evident that he has athletic ability, but I also believe he has the drive and work ethic to be successful — and that's wherever he would've wound up. One of the most-asked questions I got in December and January was, 'Coach, do you think he's a better linebacker or running back?'"
"Yes was my answer."
Harold Perkins can be a Swiss Army Knife for the LSU defense
Perkins starred at running back and linebacker for Cy-Park as well as spot duty at receiver or back deep at safety. He accounted for almost 1,700 yards from scrimmage with 35 offensive touchdowns.
Perkins added another 35 tackles, three TFL, two sacks and three interceptions, including one returned for a touchdown defensively.
"Harold would be an electric playmaker for the Tigers' defense and they could use him all over the field. He has the ability to play outside linebacker, safety and even inside linebacker. That makes him a unique talent LSU will love. He'll be successful. They're getting an exceptionally talented player and an exceptional young man."
Perkins was in Tiger Stadium for LSU's regular-season win over the Aggies. He returned for an official visit before Signing Day, and since reopening his recruitment he naturally found his way back in LSU's corner.
"LSU was the first school to ever contact him and wanted to talk to him on the phone," Rogers said. "Naturally, he's from Louisiana so he and his family were really excited. LSU was consistent in his recruitment and he made multiple trips to Baton Rouge on his own to attend games and visit the school."
Perkins exemplifies position-less football
As defenses game plan to slow down RPO-based offenses and spread offenses on a week-to-week basis, Perkins provides coordinators with a versatile Chess piece to plug in at multiple levels.
The 6-foot-2, 200-pound Perkins has seen snaps at all three linebacker spots, including as a stand-up rusher off the edge, while also patrolling back deep at safety. He boasts sub-4.5 speed and can cover as well as he can roam sideline to sideline to slow down the run. Perkins is a devastating addition to the pass rush, too.
Perkins just wrapped up his third season of high school basketball after transitioning over from the hardwood. He was the District Newcomer of the Year as a sophomore and was a two-time All-District selection on offense and defense the past two years.