Brian Kelly assesses state of LSU football facilities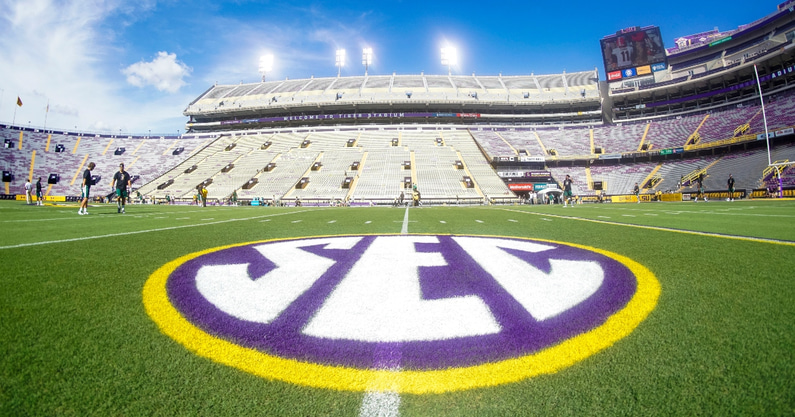 Brian Kelly is just a few months in as the head coach of the LSU Tigers, and he has not yet coached a game in Baton Rouge. But he is gearing up for the 2022 season. As he continues to prepare for LSU's regular season, Kelly has put together a wish list when it comes to football facilities around campus.
Overall, Kelly is very pleased with the layout of LSU's football facilities in relation to the overall campus. It is very easy to get to and from campus, and that has impressed Kelly early on in his tenure.
"Well the geography is outstanding," Kelly said in an interview with Jacques Doucet. "And when I say geography, in terms of getting around campus, getting our players to and from the facility. We've got a great nutrition center here where we can feed our players. The ability to train here, to meet here."
LSU went 6-7 last season and later parted ways with former head coach Ed Orgeron. With Kelly now leading the way, the Tigers hope for a return into contention as soon as possible. New facilities could go a long way as Kelly builds towards the future.
Kelly: LSU is working on some projects regarding facilities
While Kelly is overall pleased with LSU's facilities, he also has seen some areas for improvement. One of those areas is with medical facilities and athletic training space. That project is underway, and Kelly thinks it will be a major asset once completed.
"We have all the needs that any program needs," added Kelly. "We have to advance our medical facilities. And Beau Lowery does a great job as our head athletic trainer. But he needs more space. We're in a fundraising project right now to enhance our athletic training facility and in particular the rehabilitation services for our players. So that's an area that we'll improve on. Scott Woodward is committed to that end. There are other bigger projects. We've got to get the PMAC up and running and there needs to be some renovations there for sure. But this is a project that's been underway for a while and we'll see that come to fruition.
"We just don't have the space down there. So that's something that will be addressed and we'll move forward and that will give us all the things necessary here."