Brian Kelly: Jayden Daniels is LSU starting quarterback, Garrett Nussmeier getting first-team reps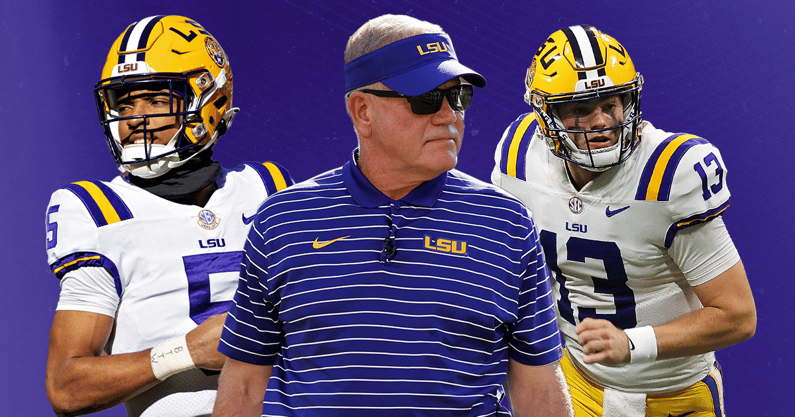 Shortly after LSU thumped Purdue in the Citrus Bowl to close out the season, Brian Kelly was non-commital to who the starting quarterback would be. Jayden Daniels won the job after transferring in from Arizona State but at the time, Garrett Nussmeier and Walker Howard remained on the roster.
Howard has since transferred, moving across state lines to Ole Miss.
A few months later and any kind of quarterback competition has been put to bed by Kelly. He said Daniels will be LSU's starter moving forward. There could have been a world where Daniels leaves the program in favor of the NFL Draft. Instead, there are things to work on from his perspective, and no better place to do so than Baton Rouge.
"The improvement level, you know, was great for Jayden Daniels," Kelly said during The Hard Count with J.D. PicKell, premiering on Thursday at 11 a.m. ET. "And he also saw that he could get better here at LSU. And so, we're grateful that he feels that way and that he has the opinion that he has things to work on as well, right? It takes two to work together in this situation."
Work has already begun for Daniels, starting in the film room. He will then slowly begin to apply things on the practice field during the spring. Kelly wants a more aggressive thrower in Daniels, hoping LSU can go downfield effectively.
"So, this spring — but before this spring, you know, he saw the need to really work on some things in film study and understanding, you know, his progressions," Kelly said. "Now, he gets to go on the field and put those things together. He made progress, as we talked about, but I think we got to see him push the ball downfield, be a little bit more aggressive. And those are the things he'll get a chance to work on."
Daniels made an appearance in all 14 LSU games last season, throwing for 2,913 yards, 19 touchdowns, and three interceptions. He was just as effective on the ground with 885 yards and 11 touchdowns. A true dual-threat quarterback.
Brian Kelly to still give Garrett Nussmeier first-team reps
The reason Kelly had to confirm Daniels as the starting quarterback was due to Nussmeier. He has been chomping at the bit to take over for LSU ever since he stepped foot on campus. Opportunities have popped up over the past two seasons, none better than in early December.
"Garrett Nussmeier, we got a chance to see him in the SEC championship game," Kelly said. "He's a guy that can do a lot of things."
Nussmeier wound up being LSU's leading passer in Atlanta, throwing for 294 yards and two touchdowns against Georgia. Serious flashes of potential were shown by the second-year quarterback against the eventual national champions — even if the game was already out of hand.
To continue development, LSU has to give Nussmeier reps against the program's best players according to Kelly. While Daniels might be the starter moving forward, the development of talent behind him is crucial for the program.
"We need to keep an open mind," Kelly said. "We got to give him some work with the first team as well, as we continue to develop him because certainly, he has the tools as well. So, Jayden's our starter but Garrett Nussmeier needs to continue to grow. You can't grow if you're just getting second-team reps. You've got to be able to give him an opportunity to go out there and show himself as well."