Jimbo Fisher recalls memories of Death Valley from LSU days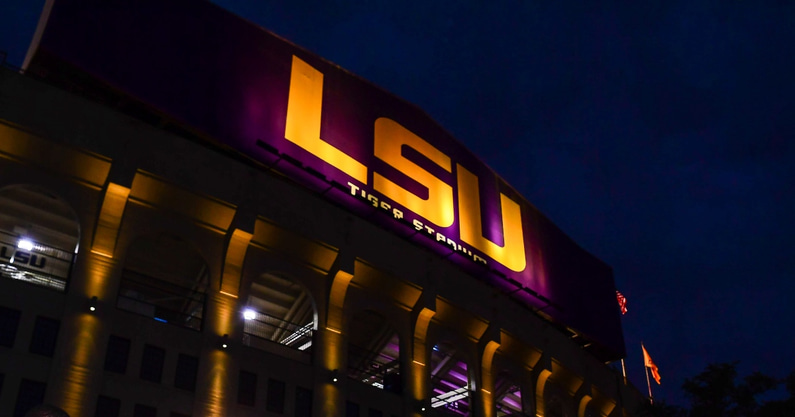 When Texas A&M head coach Jimbo Fisher takes his team to Baton Rouge on Saturday night, he will find himself in a familiar atmosphere.
Fisher served as the LSU offensive coordinator from 2000-2006 prior to moving over to Florida State, where he would get his first head coaching job in 2010.
During a Monday press conference, Fisher reflected on his time with the Tigers and the electric atmosphere in Death Valley.
"It was fun to feel that environment, atmosphere," Fisher said. "Of course, we had good teams. So why it was crazy? We were really good. We were winning national championships, we were winning SEC championships, we were one of the top teams in the country."
Fisher served under current Alabama head coach Nick Saban from 2000-2004, and former LSU and Kansas head coach Les Miles took over in 2005. The Tigers won the national title in 2003 and the SEC title in 2001 and 2003. 
LSU found themselves in the top five at some point during four of Fisher's seasons, and they twice finished in the top five. Additionally, they won double-digit games four times while Fisher was there, and they never won fewer than eight games. 
Regular season concludes under the lights in Death Valley
When the Aggies arrive on Saturday night, they will bring with them an 8-3 record and a No. 15 ranking. While LSU is 5-6, they are fighting for bowl eligibility and have played in several close games down the stretch. In other words, they have not given up.
Fisher and Co. will face a hostile environment, one the former offensive coordinator understands is one of the tougher places to play in college football. 
"Very electric, very fun, great people, and they love their Tigers," Fisher added. "It's a heck of an atmosphere. It's a great place to play when you're home and a tough place to play when you're on the road for two reasons: not only the atmosphere there, but the players on the field. They have really good players."
The game will feature two of the better defenses in the conference, at least as of late. Texas A&M is allowing just 14.9 points per game, which is third in the nation. LSU's defense struggled early in the season, but in their last three games – including losses to Alabama and Arkansas – they are allowing just 16.7 points per contest. 
The Aggies are a 6.5-point favorite, further evidence of the difficulties that come with playing in Baton Rouge. The game will be on ESPN.