LSU defensive end BJ Ojulari declares for 2023 NFL Draft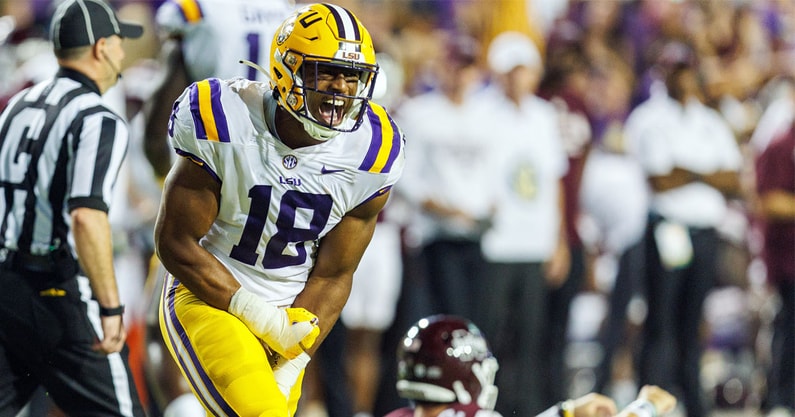 LSU defensive end BJ Ojulari has officially made a decision on his future and whether to enter the 2023 NFL Draft. The defender who wore the coveted No. 18 jersey for the Tigers announced he is declaring for the 2023 draft and leaving the program on Sunday in a post on Twitter.
Ojulari had his most productive season in 2022, posting 56 total tackles, 36 solo, with five sacks and a forced fumble. In 2021, he had 54 tackles with seven sacks.
Ojulari was a true junior, the younger brother of former Georgia star and second-round 2021 NFL Draft pick, Azeez Ojulari. He made an instant impact at LSU, playing well enough in his first two seasons that he was granted the No. 18 jersey on defense.
LSU notes the No. 18 jersey "is given each year to the player who best represents all the outstanding traits of an LSU football player." Ojulari certainly exemplified many outstanding traits.
He was twice named the SEC Defensive Lineman of the Week, earning those honors in 2020 following a game against South Carolina and again in 2021 after a game against Central Michigan.
Many NFL Draft analysts consider Ojulari a potential late first-round or second-round pick, needing to add a bit more power to his game, which already includes a great deal of speed.
More on the 2023 NFL Draft
The 2023 NFL Draft takes place from Thursday, April 27 through Saturday, April 29 in Kansas City, Missouri. The event location this year is the plaza just outside of Union Station.
Round 1 of the NFL Draft begins at 8 p.m. ET on Thursday, Apr. 27. Rounds 2-3 will begin at 7 p.m. ET on Friday, Apr. 28, and Rounds 4-7 will begin at 12 p.m. ET on Saturday, Apr. 29. The draft broadcast runs throughout the weekend on both ESPN and NFL Network.
To be eligible for the NFL Draft, players must be at least three years removed from their final year of high school while having used up their collegiate eligibility. Underclassmen are able to request league approval to become eligible for the draft, as are players who have graduated prior to using up all of their collegiate eligibility. One hundred underclassmen gained approval for last year's draft. Seventy-three of those 100 underclassmen received special eligibility while 27 of them were underclassmen who had completed their college degrees.
The 2023 NFL scouting combine will take place from Feb. 28 through March 6 in Indianapolis.