Brian Kelly reveals where he has seen most improvement on depth chart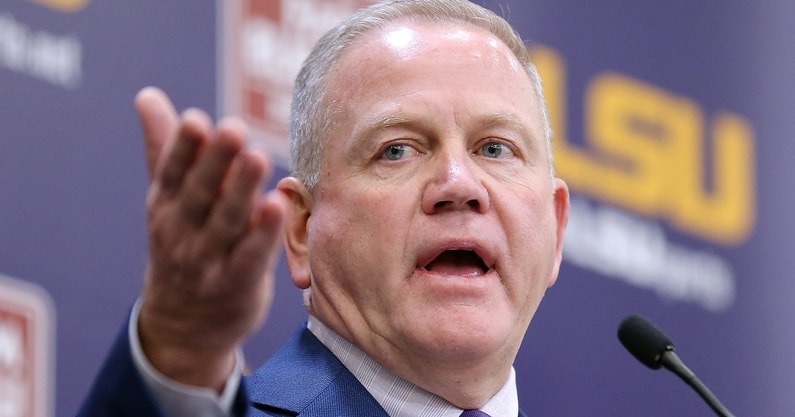 As LSU continues to go through spring practices in preparation for the upcoming 2022 college football season, the Tigers are continuing to make strides. With Brian Kelly entering his first season as the head coach in Baton Rouge, LSU has been learning his system and working to adapt to the new playbook – and that's a task that can't be completed overnight.
As Kelly, who compiled a 113-40 overall record in 12 seasons at Notre Dame, takes over a LSU team that is coming off a 6-7 campaign in 2021, there is plenty of work to be done to get the Tigers back to a championship level – and that all starts with the team buying into what Kelly is trying to do.
Meeting with the media after spring practice last week, Kelly was asked what position group has stood out to him the most since spring practice began – saying there's a certain defensive unit that's been putting in work.
"I like the versatility of the safety group," Kelly said. "There's a little bit more versatility that maybe I didn't see early on. You see [Greg] Brooks and [Joe] Foucha and Sage [Ryan] and [Jordan] Toles and [Derrick] Davis is flipping around. … There's a little bit more depth and flexibility at that position than maybe I first thought.
"That, to me, I'm more pleased with that result than maybe I was coming in."
While Brooks (39 tackles) and Foucha (72) both transferred to LSU from Arkansas after combining for 111 tackles last season, Ryan, Toles and Davis – who all played limited time in 2021 – are all back for the Tigers to play under Kelly, which should make for a strong overall product at the position this upcoming season.
LSU will continue going through spring practices leading up to its annual spring game on Saturday, April 23 at Tiger Stadium in Baton Rouge.