LSU gymnast Olivia Dunne inks monster NIL deal with apparel company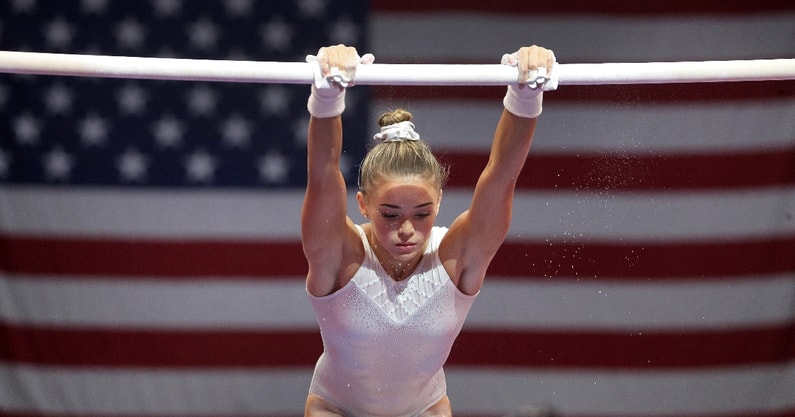 A LSU gymnast has signed one of the largest NIL deals to date. On Tuesday, Olivia Dunne partnered up with activewear brand Vuori for what Forbes reported is a six-figure agreement. 
Dunne, a sophomore from New Jersey, has 4.4 million Tik Tok followers and 1.3 million Instagram followers, making her the most followed college athlete. She will use the platforms for Vuori marketing campaigns like photoshoots, social media takeovers and both virtual and in-person events over the next two years.
The 18-year-old has been contacted by several brands looking to use her massive following to promote their products, but Dunne is not looking to promote just anything. 
"This is my first exclusive brand deal I've ever done, so I was trying to find a brand to work with that is authentic to me and that I would want to introduce to my audience to because they trust me," she told Kristi Dosh of Forbes. 
Dunne, who is also very interested in fashion, wants to feel good about the products she promotes and have them in lockstep with the personal brand she is trying to establish. 
"We have some of the same core values, and I think it's so great how they care about the environment," Dunne added. "They are also committed to happiness, and that's really important to me."
Dunne had her eyes on endorsement deals since before the rules went into effect on July 1. On June 30, she tweeted "NIL rules change tomorrow… let's get to work," signaling she had been thinking about how the change would alter her life. 
Because of her immense following on Tik Tok and Instagram, it was widely believed that she could be one of the top-earning athletes once NIL rules went into practice. That appears to be holding true.
In August, Dunne signed a deal with WME Sports, an agency which traffics in the sports and entertainment space. Recently, WME has brought in several high-profile sports broadcasting clients, represents some of the top golfers and tennis players, and is making inroads in baseball. The gymnast was the agency's first NIL athlete. 
Dunne earned All-America honors on uneven bars in her freshman season and finished the season with an average score of 9.844 with a career high of 9.925.