LSU nabs commitment from in-state DL De'Myrion Johnson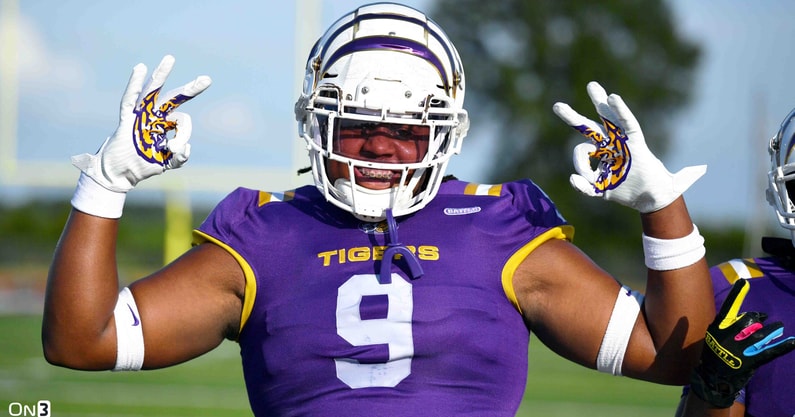 De'Myrion Johnson's mind was made up the moment he arrived back on LSU's campus earlier on Thursday.
Johnson, the No. 45-rated DL in the On3 Industry Rankings out of New Iberia (La.) Westgate High School in Louisiana, committed in-state to the Tigers after taking an unofficial visit to campus. The 6-foot-3, 280-pound hybrid defensive lineman was one of LSU's early in-state offers and aimed to cap his spring with this decision.
"LSU was the best decision for me and my family moving forward," Johnson told On3 on Thursday afternoon.
"Ever since I was young … in the fifth or sixth grade … LSU has been my favorite school," he continued on. "I dreamed of being a Tiger. It's a dream come true to play for my hometown team, to go down the road and put on the Purple and Gold and rep the Tigers."
Multiple LSU coaches have stayed on Johnson
Johnson has made a string of visits over to LSU over the past year-plus since securing an offer from the Tigers. He's all been a top target for multiple coaches on staff, including AHC Frank Wilson, QB coach Joe Sloan and recruiting specialist Sherman Wilson.
"LSU feels like home," he told On3. "I've been talking to a lot of the coaches over there and they've been welcoming to me and make it feel like home. I don't even have to introduce myself to everyone; they already knew who I am. It was funnest school I've been to hands down and the coaches are fun, playing with you, enjoying everything with you, and having fun with you."
"It's not just talking football, but game planning for after football," Johnson continued. "It's more about life after football and what you're gonna do with football to get your degree."
Johnson shined as a junior for Westgate
On3 was on hand for two of New Iberia (La.) Westgate's games last season as well as the jamboree in the summer. Here was the write-up on Johnson, who plays multiple positions along the defensive front and is coached by former New Orleans Saints and LSU DL Tyrunn Walker.
"Four-star junior DL De'Myrion Johnson closed last season out with authority and has been even more impactful this season. That was the case during the team's jamboree and again working at defensive end for Westgate and consistently doing his part to slow down the run and also make plays behind the line of scrimmage."
"The 6-foot-3, 280-pounder is light on his feet with excellent bend and uses his hands very well against opposing linemen. Johnson was effective setting the edge against the run and also crashing in on inside runs. He chased down runners beyond the line of scrimmage in pursuit and made a handful of splash tackles for loss throughout the game."