LSU suffers another devastating blow to its starting secondary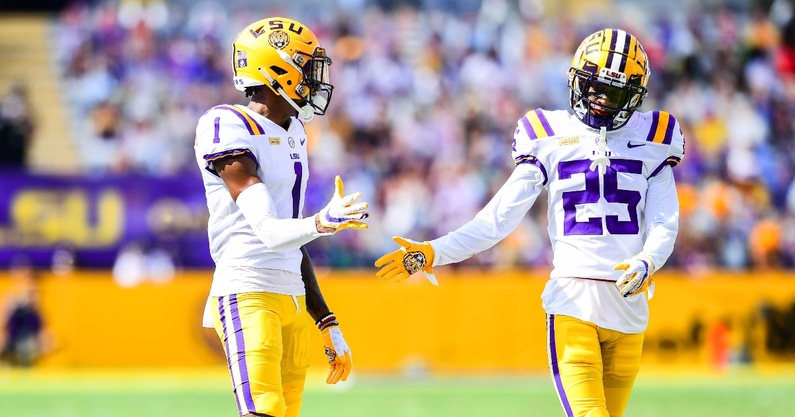 The LSU secondary just suffered another massive loss in what has become a nightmare season on the injury front. 
LSU head coach Ed Orgeron announced Wednesday morning that starting cornerback Eli Ricks will miss the remainder of the season. Orgeron did not specify the exact injury, but shed some light on why the decision was made now.
"It's a sustaining injury that just kept on coming and coming back, and he and his family decided to get it operated on, to get it fixed," Orgeron said on Wednesday's SEC teleconference. "I think he's going to get it fixed soon. It was a nagging injury, here and there, and he kept on playing with it and playing with it, and it just kept on reoccurring."
The news comes just a week after the announcement that his counterpart and first-round draft pick cornerback Derek Stingley Jr. will miss the remainder of the year with a foot injury.
Orgeron said Cordale Flott will move from the nickel position to cornerback to replace Ricks.  
As a freshman in 2020, Ricks played in 10 games, starting in seven of them, and recorded 20 tackles, nine passes defended and four interceptions, two of which he returned for touchdowns. He was named second team all-SEC and a third team All-American by the AP.
Ricks was a five-star prospect out of IMG Academy in Florida after transferring from Southern California powerhouse Mater Dei High School.
LSU injuries continue to mount
To say LSU has been hit with numerous injuries this season would be a gross understatement.
"It does make it tough, but it's next man up," Orgeron said Wednesday regarding Ricks. "Somebody's got to rise up to the occasion. We've lost several players, especially to our starters on defense. We've got some young guys that have to step up."
In addition to Ricks and Stingley, both sides of the ball have lost impactful starters. Defensive end Andre Anthony, one of LSU's best pass rushers, is out for the season. Safety Major Burns and defensive tackle Joseph Evans missed last week's loss at Kentucky and will sit out this weekend against Florida as well. There is not a timetable for their return.
A bright spot for Orgeron's 3-3 team, defensive tackle Glen Logan will likely be available for the first time this season. He broke his right foot in preseason practice.
On the offensive side of the ball, top wide receiver Kayshon Boutte will miss the remainder of the season due to a leg injury.
This offseason, quarterback Myles Brennan suffered a compound fracture in his left arm in a freak fishing accident. Orgeron previously hoped they would get him back ahead of a Nov. 6 date with Alabama, but that timeline seems to be in jeopardy.