LSU Tigers, Brian Kelly add quarterback coach to staff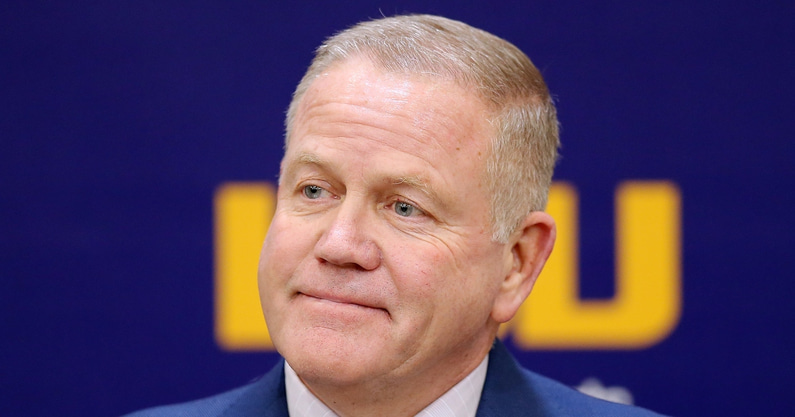 The LSU Tigers have announced the hiring of Joe Sloan as the program's next quarterback coach. Head coach Brian Kelly was able to pull him away from Louisiana Tech, where Sloan was for the past nine seasons.
Sloan began his stint in Ruston as the inside wide receivers coach in 2013 and was eventually named the recruiting coordinator in 2014. Kelly will be hiring somebody who has been recruiting in the state of Louisiana for a long time at a high success rate.
"Joe is an outstanding coach with a proven record of developing players on the offensive side of the ball," Kelly said in a statement. "His ability to teach and develop quarterbacks was instrumental in the explosive offenses at Louisiana Tech for nearly a decade and I know he will do a great job of utilizing the skill players we have at LSU.
"He's also an outstanding recruiter and having spent nine years at Louisiana Tech, he knows the talent our state produces each year. He's built great relationships with high school coaches around the state which will help us keep the best players in Louisiana at home."
"I am thankful to Coach Kelly for providing me the opportunity to coach at the best program in the country," Sloan said. "LSU football is the gold standard, and I can't wait to get to work helping win a championship. Louisiana is where we call home, and we're so excited for our family to join the LSU and Baton Rouge community."
Sloan will have a decision to make on the starting quarterback beginning next season. He will have Myles Brennan, Garrett Nussmeier, and true freshman Walker Howard to choose from. A spring and fall battle should be in store to take snaps under center in Baton Rouge.
LSU Tigers quarterback situation heding into Texas Bowl
The LSU Tigers have just 39 scholarship players available for the Texas Bowl, according to The Athletic, including zero scholarship quarterbacks. LSU's 39 available scholarship players is less than half of the allotted amount.
LSU's quarterback situation has been widely speculated about for much of the season. That included the back and forth on whether or not to redshirt freshman Garrett Nussmeier, a hot topic in the final weeks of the regular season. Ultimately, LSU opted to not play him in the final games of the year, preserving his redshirt.
Since then, starting quarterback Max Johnson has entered the NCAA Transfer Portal and transferred to Texas A&M. Myles Brennan withdrew his name from the portal, but he is still unavailable for the Texas Bowl. That leaves Nussmeier as the lone remaining scholarship quarterback. LSU was hoping to get a waiver passed to allow Nussmeier to play without burning his redshirt, but that does not appear to be happening.