LSU set to unveil statue of Tigers legend 'Pistol' Pete Maravich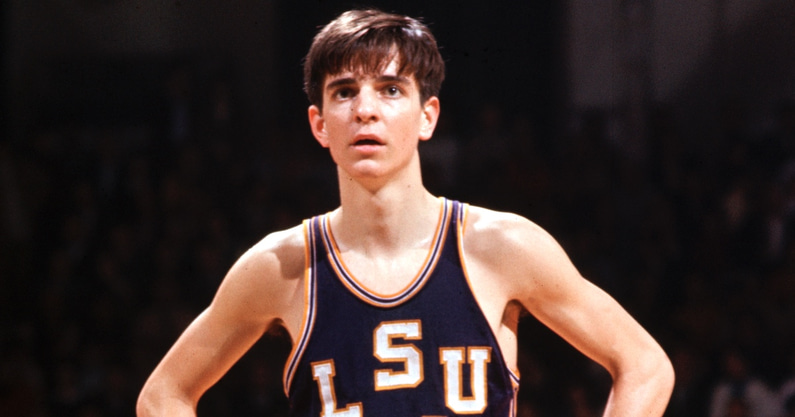 On what would have been his 75th birthday, LSU Athletics has announced that it will unveil a statue honoring the late 'Pistol' Pete Maravich on Monday, July 25. The statue will be revealed at 6 p.m. CT, with a private reception to take place afterward.
The statue will stand alongside existing likenesses of Hall of Famers Shaquille O'Neal and Bob Pettit on the north side of the arena that already dons the legendary basketball star's name – the Pete Maravich Assembly Center.
Maravich played his college ball for the Tigers from 1967 to 1970 where he went on the become the best scorer in NCAA history. He scored 3,667 points in three seasons at LSU, averaging 44.2 points per game from 1967 to 1970 – a scoring record that still stands heading into the 2022-2023 college basketball season.
Even more impressive, Maravich's scoring prowess came before freshmen were allowed to play varsity basketball and before the implementation of the 3-point line and shot clock.
In his final season in Baton Rouge, Maravich became the winner of the 1970 Naismith Award and the Sporting News National Player of the Year, as well as was a three-time first-team All-American at LSU, before becoming a five-time NBA All-Star.
Remembered as one of the greatest NBA players of all time, he has been named to the NBA's 50th and 75th Anniversary All-Time Teams alongside fellow Tiger greats O'Neal and Pettit. He's also a 1987 inductee into the Naismith Memorial Basketball Hall of Fame after playing 10 seasons in the NBA with notable stints on the Atlanta Hawks and Utah Jazz.
Shortly after Maravich's death in 1988, the LSU Assembly Center was re-named after the all-time great basketball star by the Louisiana Legislature. 34 years later, LSU's athletics department will now immortalize him in yet another spectacular way.