Report: ESPN assigns announcers for LSU vs. Florida State Week one matchup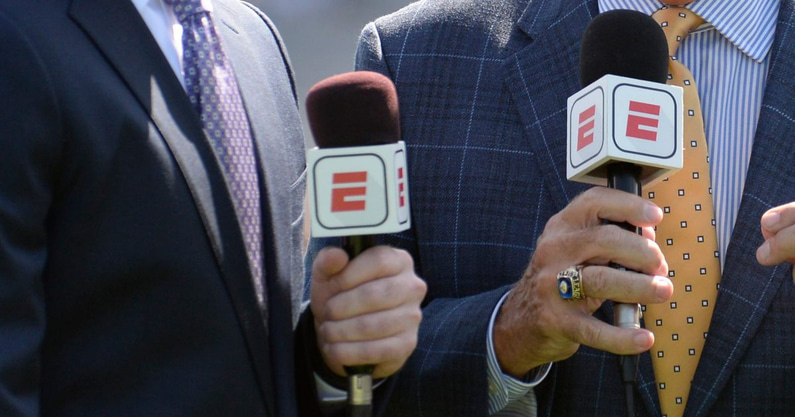 Week one of the college football season is chalked full of marquee matchups between powerhouse programs. One of the games on tap for that weekend is a matchup between two teams looking to rebound from abysmal 2021 seasons, the LSU Tigers and Florida State Seminoles. While we do not know the starters of each team just yet, we do know which personalities will be calling the game for ESPN.
According to Rudy Martzke, ESPN will have former Alabama Crimson Tide quarterback Greg McElroy calling the game along with a few other familiar faces.
"Around the Dial: ESPN will have Joe Tessitore. Greg McElroy, and Katie George on the call for the Allstate Louisiana Kickoff (New Orleans) in Week 1 on Sunday, September 4th, for the matchup between FSU/LSU," wrote Martzke via Twitter.
As mentioned above, both teams are coming off years to forget in 2021. LSU finished the year 6-6 and earned a bowl bid amid a coaching change from Ed Orgeron to former Notre Dame head coach Brian Kelly. And in that bowl game against Kansas State, the TaxAct Texas Bowl, the Tigers were soundly defeated 42-20 after being forced to start wide receiver Jontre Kirklin at quarterback.
For Florida State, their last game of the season was against an instate rival in the Florida Gators, with the winner of the game earning a bowl bid. The Seminoles fought hard but eventually came up short, losing to the Gators 24-21 to finish the year at 5-7. That 5-7 mark was the worst for Florida State since the pre- Bobby Bowden era.
Underneath head coach Mike Norvell thus far, the Seminoles have struggled to regain their luster from nearly a decade ago. And despite winning a national championship just three seasons ago, LSU has been a .500, which is what prompted the split with Orgeron. Both teams head into the Superdome with aspirations of resurrecting their elite status. No one knows for sure which way this game will go, but it will definitely be an exciting one, and the team calling the game will make it a more compelling watch.