Brian Kelly discusses which LSU veterans have shown improvement in spring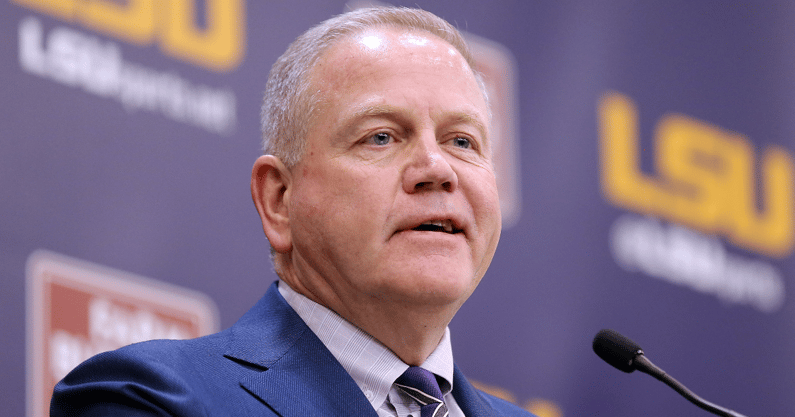 While multiple players departed the LSU football program following the departure of Ed Orgeron, head coach Brian Kelly discussed which players that opted to return to Baton Rouge have surprised him over his first season at the helm of the Tigers' program.
"There has been a number of guys," Kelly said. "I think defensively, Mike Jones has done a really good job taking a position like the middle linebackers position which is shortstop, center field, catch. Up the middle all those guys have got to communicate.
"At the center position, I think [Charles] Turner has done a nice job. Those guys in particular, when there's a communication piece you really need to see those guys step up and I thought those two guys on both sides of the ball that are in the middle of our offense and defense. So, Charles Turner that has done a really nice job, B.J. Ojulari, obviously he's a gifted player, Maason Smith is a very gifted player. I think those guys are returners that really did a nice job."
While the returning cast for LSU seems to be adjusting nicely to Kelly's new schemes, the question every Tigers fan wants answered is when will they know who the starting quarterback will be. While Kelly didn't address where he sits regarding his quarterbacks, according to Kelly, former starter Myles Brennan has really caught his eye during spring ball.
"I think from an offensive standpoint, Myles Brennan did a really nice job," Kelly said. "I mean, here's a guy that has been here a long time, suffered an injury, battled back, had a really good spring game, and the question was posed earlier, 'what do you want to do with your offense?'
"Each one of the quarterbacks, [Garrett] Nussmeier to obviously, Jayden Daniels and [Walker] Howard, I mean, they all have different skills, and so when we get to camp, we're going to have to really put the offense into what they can do, but Brennan's, another guy that I think did a nice job."
While the quarterback battle is heating up, Kelly isn't ready just yet to name a starter. That is what fall camp is for once the players return to campus in August, just weeks before his inaugural season as LSU's head coach. That doesn't go for just the quarterbacks, meaning everyone's spot is up for the taking before the 2022 season.
"There's a number of guys that really helped themselves in the spring," Kelly said. "These next couple of months are going to be crucial. They're going to have to do a great job in the weight room, continue to get stronger, and then [fall] camp will be the separator when guys will start separating and working toward starting positions."