Brian Kelly opens up on recruiting, traveling state of Louisiana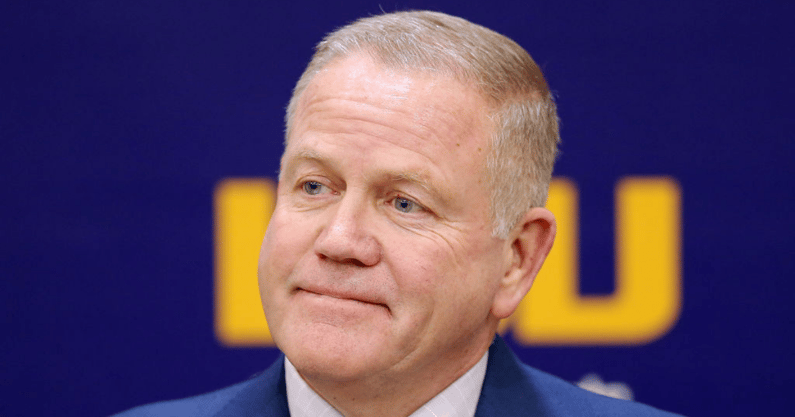 Leaving one head coaching job for another brings a list of changes as a coach. Whether it's getting to know your players, hiring staff, uprooting family, implementing new schemes, nothing seems more difficult than navigating an entirely new recruiting scene in an unfamiliar area. LSU head coach Brian Kelly has found that to be the least of his worries.
"I mean, the reception has been terrific," Kelly said. "[LSU is] the flagship university for the state and being in the Midwest, you know, you had Michigan, Michigan State, you know, Indiana, Purdue and Notre Dame. I mean, you're fighting a lot of different schools for those student athletes in the Midwest. Ohio State, I could go on and on.
"Here, there's one school. It's LSU, and the high school coaches recognize that. Now, you've got to recruit the young men and you've got to put your time in, but it's a whole different perspective from that standpoint when a young man [from around here] grows up, he wants to be a Tiger. It's in his blood."
LSU currently has 54 total players on its entire roster from the state of Louisiana, including redshirted players and those on the practice squad that don't dress on game day.
In the Class of 2022 alone, four-star offensive lineman Will Campbell, four-star quarterback Walker Howard, four-star defensive lineman Quency Wiggins and three-star offensive lineman Fitzgerald West are all Louisiana natives and early enrollees on campus this spring. Six more will join the program over the summer.
Likewise, the Tigers brought in 15 players via the portal this offseason, and five of them are from Louisiana, including Jarrick Bernard-Converse, the No. 15 player to hit the portal this year, according to the On3 Transfer Portal Rankings. In addition, LSU offered at least three of them a scholarship out of high school, and Kyren Lacy started his career at Louisiana under Billy Napier.
"It's a different concept and for me, it's great," Kelly said about the reach LSU has throughout the Louisiana recruiting scene. "You go to Lafayette or Shreveport or Monroe and sometimes they talk about it like it's another state, but it's only three and a half hours away. I was used to living in a plane for two weeks, you know, so it's, it's been awesome.
"From that perspective, high school coaches are supportive and you've just got to go out there and go to work … You know, New Orleans, Baton Rouge, in this area has been great, but I think we've got to do a better job and retaining players up in that northern area of the state as well."