Brian Kelly comments on LSU salary: 'I've never chased the dollars'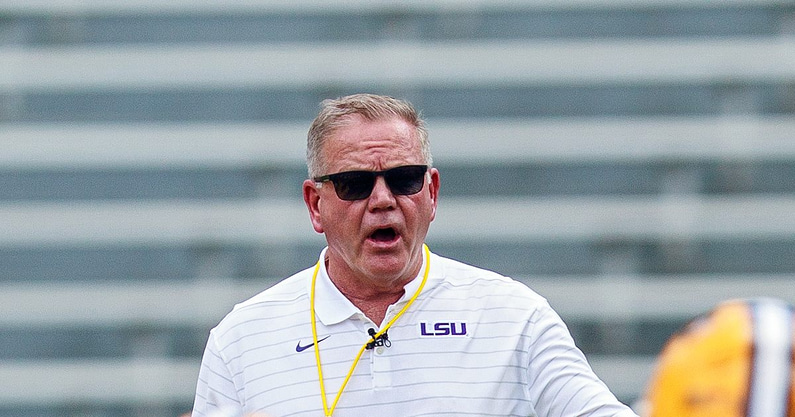 The LSU Tigers football program made one of the biggest coaching moves of the year when they pried Brian Kelly away from the Notre Dame Fighting Irish. Some have speculated that Kelly left Notre Dame because of the impressive salary that LSU offered. However, during a recent interview, the Tigers new headman had a simple response to that accusation, 'I've never chased the dollars.'
"Well you wouldn't be in this for 32 years, like I have, if you were chasing dollars," said Kelly. "If you're chasing dollars and that's what motivates you, I would have been out of this a long time ago because I would have probably been fired. I've never chased the dollars. And quite frankly when you think about it, the big contract, it's almost disrespectful to LSU when people say well coach Kelly went for the money. I would never have taken a job for a little bit more money if it wasn't the best job. I had a great job, this is a better opportunity for me. So people really need to understand that, is it a great salary absolutely and I'm blessed to have that but, it's the job. It's LSU that's really why I'm here; because you don't leave a situation like Notre Dame unless it's a better opportunity for you."
LSU and Notre Dame have two of the most prestigious athletic programs in the country. And speaking strictly on football, both are consistently among the top teams year in and year out. So, while coach Kelly's decision might not have been financially motivated, one thing is for sure; he will remain with a program that gives him an opportunity to win a national championship.
Kelly: I would not have danced with Walker Howard at Notre Dame
It didn't take long for Brian Kelly to go viral after taking the LSU head coaching job. His dance with Walker Howard lit up social media, and it was quite a way to start his tenure.
The video in question featured Kelly dancing behind Howard to the tune of Garth Brooks' version of "Callin' Baton Rouge." It was a different side of Kelly — one fans didn't see much when he was the head coach at Notre Dame.
He confirmed this week he likely wouldn't have showed off those moves if he was still in South Bend.
"I would not have done that at Notre Dame," Kelly said during an interview with Jacques Doucet. "It's just a different place, a different time. I've always kind of looked at my situation and said I think as a leader, you've got to always shift and change and look to improve and sometimes, reinvent yourself. I don't know if I've reinvented myself in all those areas.
"But when a young man looks at you and says, 'Coach, let's have some fun with this,' why not? I think sometimes, we get a little too caught up in what other people think instead of the people that are asking you to do some things. I had some fun with it, and I'm glad I did."