LSU set to play position player at quarterback in Texas Bowl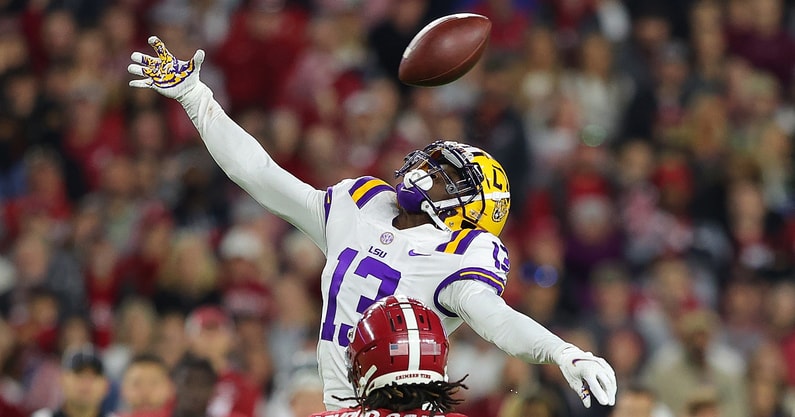 Between injuries, opt-outs and transfers in the aftermath of LSU parting ways of head coach Ed Orgeron, the Tigers are now left with a completely makeshift roster — and as a result, wide receiver Jontre Kirklin, who has not logged a snap at quarterback in college, will be starting under center for LSU in the Texas Bowl.
LSU is set to face off with Kansas State in the Texas Bowl at 9:00 p.m., and the Tigers — already short quarterbacks due to the depleted state of its roster — lost starting quarterback Max Johnson, who entered the NCAA Transfer Portal after the departure of Orgeron. That left Kirklin, a high school quarterback, to take over at quarterback.
Kirklin has caught just four passes this season for 49 yards. In high school, Kirklin was a dual-threat quarterback in high school that was a decorated prospect coming out of Lutcher High, but given his athleticism and six-foot, 184-pound frame, he was largely recruited as a wide receiver. Kirklin was a three-star recruit via the On3 Consensus, a complete and equally weighted industry-generated average that utilizes all four major recruiting media companies, making him the No. 104 wide receiver in the 2017 recruiting class.
Report: LSU updates status of star kicker ahead of Texas Bowl
LSU will play the Tuesday night's Texas Bowl without junior kicker Cade York, according to LSU insider Jacques Doucet, via an LSU spokesperson. York ranks among the top kickers eligible for the 2022 NFL Draft, and a report from 247 Sports' Shea Dixon suggests he might have been "banged up" during bowl preparation.
York is in attendance on the sideline for LSU's game against Kansas State, wearing his jersey over sweatpants and a sweatshirt on the sideline. The Tigers have five other kickers on the roster, including listed backup Preston Stafford, a junior who transferred to LSU in 2020 after one season at Arkansas.
Cade York is a two-time All-SEC kicker at LSU and was a 2020 second team All-American selection. He also holds the school record for longest field goal with a 57-yard make in 2020. The McKinney, Texas native has appeared in 37 games over three seasons, going 54-of-66 on field goals and 164-of-168 on extra points.
Tigers shorthanded for Texas Bowl
LSU's roster is completely decimated right now. The Tigers have been dealt with a plethora of opt outs, transfer portal additions, and NFL Draft declarations. Entering the Texas Bowl against Kansas State on Tuesday, LSU has just 39 scholarship players available, which is less than half of the allotted amount, according to The Athletic's Brody Miller.
"The Tigers have just 39 available scholarship players, by The Athletic's count, and no scholarship quarterbacks," Miller said. "Its secondary has just one real starter available. The two best defensive players — linebacker Damone Clark and defensive tackle Neil Farrell — opted out to prepare for the NFL draft. All of this in a game against a well-rounded Kansas State team that would have been favored even before the absences."
Offensively, LSU is going to be pulling deep from its bag of tricks in the Texas Bowl. With no scholarship quarterbacks available and some key offensive weapons also unavailable, the Tigers will need to find offensive contributions from some unproven places.
LSU's quarterback situation has been widely speculated about for much of the season. That included the back and forth on whether or not to redshirt freshman Garrett Nussmeier, a hot topic in the final weeks of the regular season. Ultimately, LSU opted to not play him in the final games of the year, preserving his redshirt. LSU was hoping to get a waiver passed to allow Nussmeier to play without burning his redshirt, but that does not appear to be happening.
LSU's leading rusher, Tyrion-Davis Price, is out after he declared for the NFL Draft. The Tigers have also lost multiple wide receivers to the NCAA Transfer Portal, while Kayshon Boutte is still injured.
On3's James Fletcher contributed to this report.