Malik Nabers on Tennessee: 'They came out of nowhere'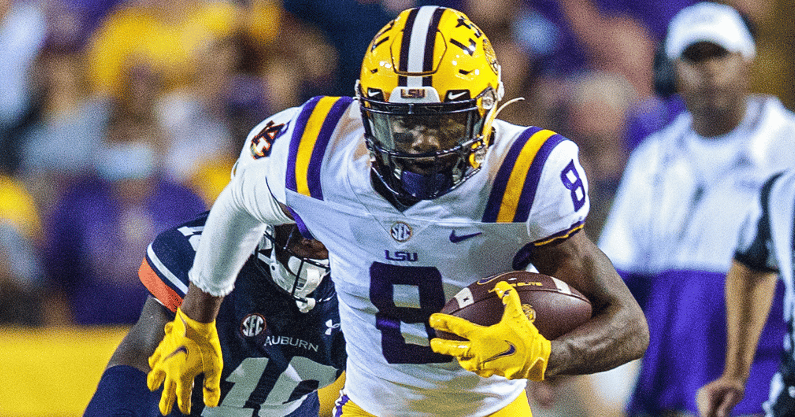 The LSU Tigers carry a four-game win streak into their Saturday matchup versus No. 8 Tennessee. Leading receiver Malik Nabers discussed what nabbing a win at home over the top-10 squad would mean on Tuesday while calling the Volunteers a squad that "came out of nowhere."
"I would say it means a lot," Nabers said on Tuesday. "Tennessee, they came out of nowhere, you know? They made a good team and they had a good team last year, just able to compete. We're in the SEC so just being able to compete week in and week out, you know? It's going to be great."
The second-year contributor out of Youngsville, Louisiana knows it's going to be up to him and the entire LSU offense to help keep the defense off the field. Josh Heupel's squad is putting up 48.5 points per game this season. However, that number drops to 36 points in games versus top-25 opponents.
CLICK HERE to subscribe for FREE to the On3 YouTube channel
"We got to come out way faster, way more technique-wise, formation-wise," Nabers said. "We got to come out making plays early because when you make early plays it sparks, it just increases on the defense and the offense … we have to keep our defense off the field longer."
This season, Nabers is just six catches shy of his 2021 total. He has 22 receptions for 290 yards and a touchdown. In 2021, he broke out with 417 yards and four touchdowns as the Tigers went 6-6 in the regular season.
Brian Kelly talks Tennessee offense, Hendon Hooker
If they can match the tempo and play physical, the Tigers should find success versus the vaunted Vols offense. Brian Kelly discussed Tennessee team leader and signal-caller Hendon Hooker this week at length.
"Big, athletic, strong, and if you think of him just as that, that's where you get beat because he can throw the football as well. I just think he's a great competitor," Kelly said of Hooker. "First of all, he plays in an up-tempo offense. It's the fastest offense in the country, obviously out-producing everybody. And then you have a guy that certainly is not getting the kind of notoriety yet, but I've seen a lot of really good quarterbacks and this guy is as good as anybody I've gone against. He has the ability to break your defense down. When he gets outside, he's big and physical, and makes things happen."
LSU hasn't played Tennessee since 2017 but they won the last five games between the two SEC programs. The series is led by the Vols 20 wins to 10 with three ties.
Tennessee is a three-point favorite in Vegas, however, the ESPN matchup predictor gives the Tigers a 58.3% chance of taking down Heupel's second-year squad.