Ovie Oghoufo describes what it's like playing alongside Harold Perkins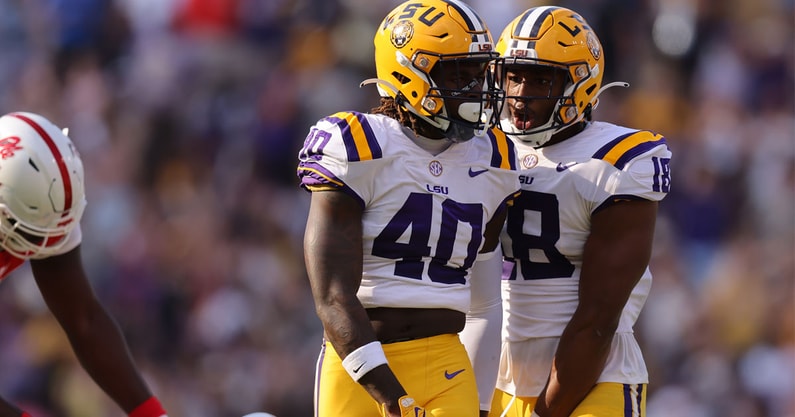 As LSU looks to take the next step after an SEC West title and 10 wins in coach Brian Kelly's first season in charge, the defense is a good starting point.
The Tigers certainly weren't bad defensively, but they weren't great either.
There are absolutely some quality pieces to build around, though. Starting with last year's freshman phenom, linebacker Harold Perkins. Texas transfer Ovie Oghoufo had a chance to line up next to Perkins all spring and came away raving about the experience.
"It's entertaining. Just him as a player and then just like him outside of football, funny dude, always loud," Oghoufo said. "You can always hear him from across the locker room. But on the field the boy a dog. Speed, finesse, everything. It's exciting. I love playing with him."
Harold Perkins did it all for LSU playing in the middle of the defense last year.
The former five-star prospect racked up a whopping 72 tackles, 13.0 tackles for a loss, 7.5 sacks, four forced fumbles, an interception and three passes defended.
He single-handedly wrecked games, consult Arkansas for details.
After a productive two-year stint at Texas that saw him rack up 96 tackles, 14.0 tackles for a loss, 4.5 sacks, two forced fumbles and five passes defended, Oghoufo transferred to LSU looking to make a big mark in 2023.
He could be the perfect complement to Perkins, with the two serving to make sure opposing ball-carriers have nowhere to go.
"Just more either him making me right or I'm making him right," Oghoufo explained. "He's got a lot of speed coming off the edge, he come with a lot of juice, a lot of finesse. Being able to just stay in our pass-rush lanes, making sure, 'All right, you coming under, I'm going to come over the top.' Just having that relationship in terms of pass-rushing, all that."
Harold Perkins and Ovie Oghoufo will get a chance to further develop their chemistry in fall camp, along with a number of other transfers.
Like Oghoufo, Oregon State linebacker Omar Speights also transferred to LSU this offseason to be a part of what Kelly is building. If the defense achieves the level it can, the Tigers could be cooking.
"When I was in the portal, my big decision maker was I wanted to go somewhere that had the opportunity to win a national championship," Speights said this week. "I felt like coach Kelly was on the verge of doing that here. Ultimately my decision to come here was, it just felt like home. When I took my visit, they made it feel like home and they made feel like it was a place where I was wanted."