Ovie Oghoufo opens up on his decision to transfer to LSU, Brian Kelly reunion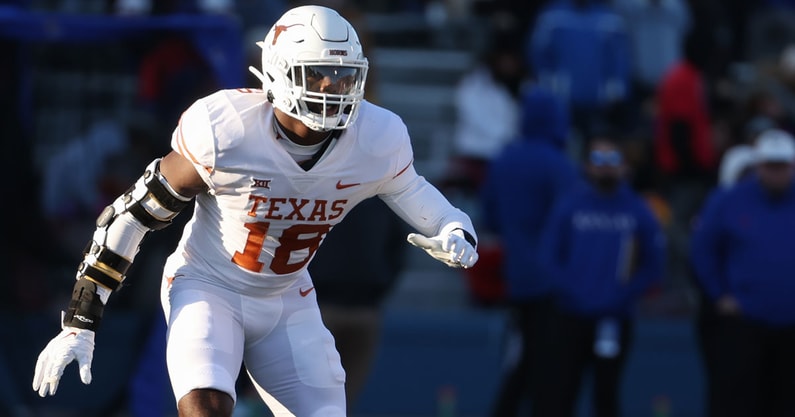 The transfer portal has become an increasingly popular avenue for players to switch schools and look for new opportunities, and with coaches also frequently hopping locations, sometimes the transfer portal can even make for some reunions. For Brian Kelly at LSU, he's had one such reunion with Texas transfer Ovie Oghoufo.
Oghoufo, a 6-foot-3, 239-pound edge defender, spent two years at Notre Dame with Kelly before leaving for Texas via transfer.
After playing his senior season with the Longhorns in 2022, Oghoufo hit the transfer portal.
"When I came in on my visit it was really kind of clear," Oghoufo said. "Just talking to him, just seeing like where I fit in on the defense, how the defense is. And then just taking to him again it was kind of a no-brainer that this was where I was going to be."
Oghoufo will give the Tigers another strong presence on the edge.
In the last two seasons with the Longhorns, Oghoufo racked up 96 tackles, 14.0 tackles for a loss, 4.5 sacks, two forced fumbles and five passes defended.
Ironically, before the eventual Brian Kelly reunion, Oghoufo thought the end of the 2022 season was it for him for a while.
"I would say coming into this final year, the extra year kind of surprised me with all the COVID rules and everything," Oghoufo said. "So I honestly kind of didn't even know I had an extra year. Then just having an opportunity to reunite with coach Kelly and just play at a high level of football in the SEC is something I've always wanted to do."
While Oghoufo was familiar with Kelly from his time at Notre Dame, where he racked up 22 tackles, 2.5 sacks and three pass breakups in 20 games worth of action, he admitted what LSU did last season also made a difference.
The Tigers surprised and won the SEC West, winning 10 games in Kelly's first season in charge. At that point, a Brian Kelly reunion seemed like a natural next step.
"I think I like his mentality, just his winning mindset and just like the way he builds up a program and everything," Oghoufo explained, detailing his reasons for picking the Tigers.
"I was at Texas, of course, when I got the news when he came in at LSU. And just like what he did in the first year kind of just shows like, 'OK, this dude's about business.' And that's how he was at Notre Dame. So having that opportunity to come back and be in a program like that, knowing I'm coming into a professional mindset and a professional school, that's kind of what I wanted."