Report: LSU parts ways with Will Wade after notice of allegations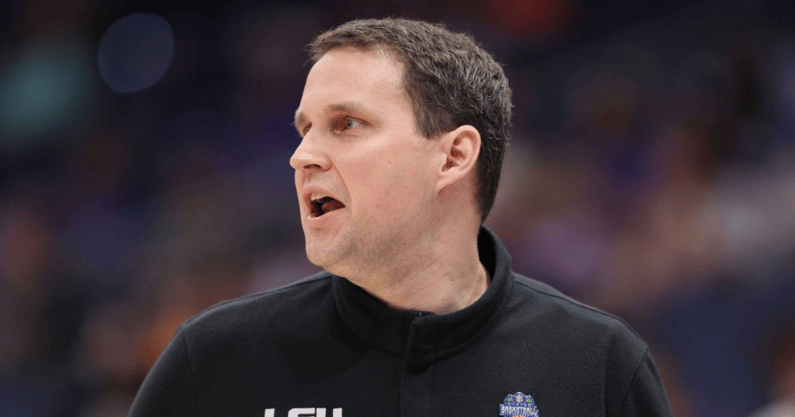 LSU has parted ways with head basketball coach Will Wade, according to CBS Sports' Jon Rothstein. The decision comes days after the NCAA provided a Notice of Allegations against the program.
Stadium's Jeff Goodman reports that the NCAA's Notice of Allegations included violations which were too severe to retain him through the investigation. Under NCAA rules, if Level 1 or Level 2 violations are found, the school can terminate without penalty.
The Tigers, projected to land a high seed in the 2022 NCAA Tournament, will be led by interim head coach Kevin Nickelberry in next week's games following the decision.
Will Wade went 105-51 over five seasons as LSU, taking the job after two successful seasons at VCU. He made two NCAA Tournament appearances and was set to lead the Tigers to a third this season. However, his tenure did not come without controversy after a wiretap revealed his "strong-ass offer" to a recruit.
Wade replaced Johnny Jones, who only made one appearance in the NCAA Tournament during a five-year stretch and restores LSU on the court. However, with the investigation still looming and precedent set for the NCAA to unleash severe punishment, this could hurt the Tigers moving forward.
More on LSU's Notice of Allegations
The LSU Tigers received their Notice of Allegations from the NCAA regarding basketball head coach Will Wade earlier this week. The process is still a few months away from being resolved in a case that began all the way back in 2017, but the school felt a decision must come now.
Wade was caught on FBI wiretaps talking about a "strong-ass offer" extended to former On3 Consensus four-star prospect Javonte Smart as part of a larger case which landed multiple people in federal prison. The guard ended up playing three seasons for LSU, averaging exactly 13 points per game, before going undrafted in the 2021 NBA draft.
LSU released the following statement on investigation on Wednesday.
"Per NCAA rules and procedures, LSU is unable to comment on any aspect of the ongoing case," the school wrote in its statement. "We will continue to cooperate fully with the IARP as we work together toward a resolution."
The school had already self-imposed penalties. Those were meant to address the potential violations of the football program that are likely to be included in this notice. LSU put into effect a bowl ban for the 2020-2021 season and added to their scholarship restrictions.