Greg Sankey praises LSU for quick turnaround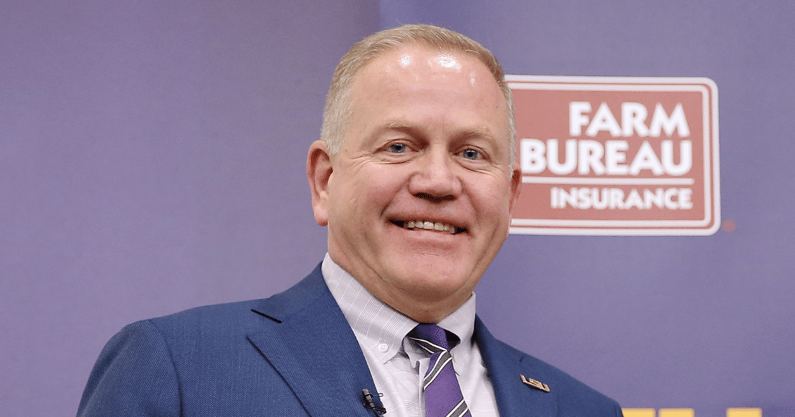 Over a year ago, LSU was celebrating a positive end to the regular season and sending national championship-winning head coach Ed Orgeron out in impressive fashion. In between then, Brian Kelly was hired, lost his first game against Florida State, beat Alabama, and clinched a spot in the SEC championship game.
It's been an impressive turnaround in Baton Rouge, with SEC commissioner Greg Sankey taking notice.
Sankey said what LSU has been able to do is "remarkable." He gave credit to Kelly for getting players to buy into the program and eventually win the SEC West. Now, they will have the opportunity to win the conference on Saturday against Georgia.
"We might as well embrace what our fans think every year, which is this is the year we're going to go 12-0," Sankey said during Thursday's SEC Championship press conference. "That's across 14 campuses. You see progress from time to time in different ways.
"It is remarkable to think where we were last year with LSU's program and the work through the season to continue to build the buy-in of the players to succeed in critical moments that gives them the opportunity to play for a conference championship."
The fall from winning a national championship into the 2020 season and even 2021 was a painful one. Magic was lost once Joe Burrow and the impressive roster left campus, as Orgeron was not able to maintain the success.
A change was desperately needed and LSU was going to make a splash hire. While Lincoln Riley was the long-time rumor, Notre Dame's Brian Kelly came out of nowhere. Not many people thought the move would work from a culture perspective alone.
Kelly has proved most dead wrong, continuing to run a successful program, whether it's with the Irish or Tigers.
Brian Kelly provides update on LSU QB Jayden Daniels
LSU quarterback Jayden Daniels will play against Georgia in the SEC Championship Game on Saturday afternoon, head coach Brian Kelly confirmed during his pre-game press conference on Thursday. Daniels took some severe physical punishment the regular season finale against Texas A&M and his status for Saturday wasn't ironclad — at least until now.
Along with Daniels, another pair of LSU players are looking on track to play against the Bulldogs after missing some time. Most important, though, is getting the quarterback right with a championship on the line.
"He's going to be good, too," Kelly said. "He's had a good week of practice and he'll play for us on Saturday."
Helping Daniels — and potentially saving him from some hits — will be the return of running back Josh Williams. After missing the final two weeks of the regular season, LSU's leading non-Daniels rusher is looking to get back in the fold against Georgia.