WATCH: Eric Gaines with game-sealing block after clutch free throws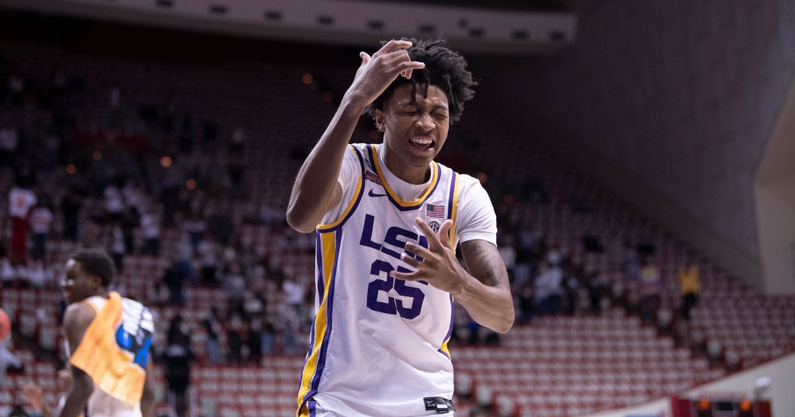 LSU point guard Eric Gaines came up huge when it mattered the most against Texas A&M, sealing the Tigers win with a game-saving block late.
Gaines hit a pair of clutch free throws to take the lead by two with 30 seconds left in the game. On A&M's next possession, the LSU defense broke down defending the high pick-and-roll, giving Marcus Williams a direct path to the basket with nobody in front of him.
Gaines rotated to help, blocking Williams' dunk at the rim and getting the ball back for his team to close the game out. After another missed shot by A&M while down by four, Gaines grabbed the last rebound of the game and hit two more free throws to end his night with 16 points, 6 rebounds, 3 assists, 4 steals and one game-winning block.
After the game, Gaines said he wasn't going to let him get the dunk. "We had to win this game," Gaines repeated.
Eric Gaines helps injured LSU survive with block
In what felt like a must-win game for the Tigers' early season, LSU managed to hold off Texas A&M despite being hobbled by injuries before and during the game. Xavier Pinson and Darius Days were both out for the game, but Taric Eason injured himself in what seemed to be a serious fashion during the second half.
With Pinson and Days out, LSU relied on their younger talent to give them the spark they needed. Even with their top-two scorers out of the game, LSU's defense was just as tough and scrappy as they have been all season, equal to the intensity of the game.
When it mattered most though, Gaines showed up with a pair of huge moments for the Tigers. Inbounding the ball with just over 30 seconds remaining in a tie game, Gaines was fouled dribbling the ball up the court. Already injured himself after taking an elbow to the head, Gaines shook off the pain and delivered a pair of clutch free throws to give LSU the lead before sealing it himself by helping on a defensive breakdown.