Why Michigan State's Mel Tucker is reportedly a top candidate at LSU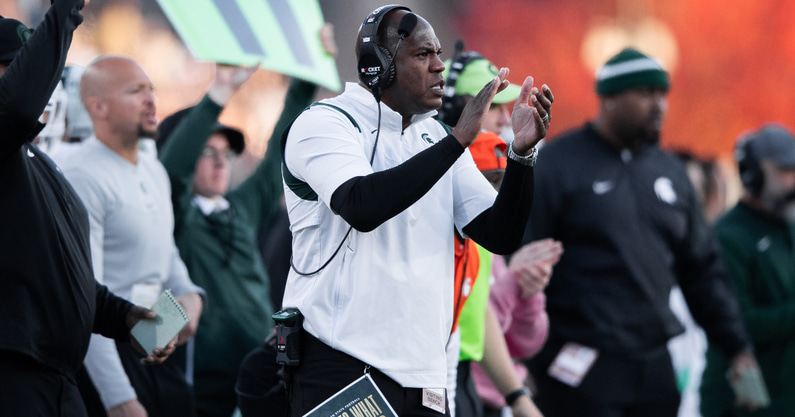 Michigan State head coach Mel Tucker is a mainstay in conversations regarding the LSU Tigers' search for a new coach, as the third-year head coach — now in his second season with Michigan State — has brought the Spartans immense success.
Tucker in 2020 took over a program that went 7-6 in both of the seasons prior, and though he went just 2-5 in his first season at the helm, he's followed it up with a national spotlight-worthy performance. Michigan State is now 8-1, and the Spartans debuted at No. 3 in the College Football Playoff rankings before an upset loss to Purdue.
As Tucker builds on his success in East Lansing, he's simultaneously building a resume of intrigue in Baton Rouge. Scott Rabalais, a local columnist for The Advocate, appeared on The Paul Finebaum Show Thursday and said LSU's top three candidates are Jimbo Fisher, Lincoln Riley and Tucker.
"It doesn't mean it's going to be one of these three guys. … And there might be as many as five guys that Scott Woodward is looking at," Rabalais clarified. "Mel Tucker also was on Nick Saban's first staff at LSU, coached for him there, coached for him at Michigan State, coached for him at Alabama, coached under Kirby (Smart) at Georgia, has got that pedigree. Does not have a long track record as a head coach, but has been in the NFL, even been a NFL interim coach at Jacksonville. His resume kind of reminds me of Nick Saban when he came here and Bill Arnsparger when he came here as LSU's head coach back in the '80s from the Miami Dolphins."
Tucker's resume, which, as Rabalais noted, doesn't have many head coaching stops, still has plenty of reason to excite the LSU athletic department. Perhaps a move to the SEC is on the horizon for the 49-year-old, whose current salary of $5.5 million would certainly be bested by LSU.
Tucker's resume catches LSU's attention
Tucker has an unconventional resume. Prior to taking the Michigan State job, he had just one season as a head coach at Colorado — but plenty of his experiences, both at college and in the pros, have added intrigue for LSU.
Rabalais mentioned his NFL stops, and Tucker would bring with him an abundance of NFL experience, having coached three teams before making his return to college. He spent time with the Cleveland Browns (defensive backs coach and defensive coordinator), Jacksonville Jaguars (defensive coordinator and interim head coach) and Chicago Bears (defensive coordinator). Plus, he's been involved in some of college football's biggest programs, LSU being one of many.
In addition to serving as an assistant at LSU, he's done the same at Georgia, Alabama and Ohio State. Plus, with a struggling Tigers' program, Tucker may be able to find immediate success using a similar strategy he's implemented at Michigan State: mining the transfer portal.
Tucker used the transfer portal to find former Wake Forest running back Kenneth Walker III, and now he's found a Heisman Trophy candidate in his backfield.
Tucker may not have the experience as a head coach to make a perfect fit. But combined his assistant coaching experience, he could very well make a perfect fit at a premier SEC program.