LOOK: Isaiah Wong releases statement regarding NIL, transfer portal ultimatum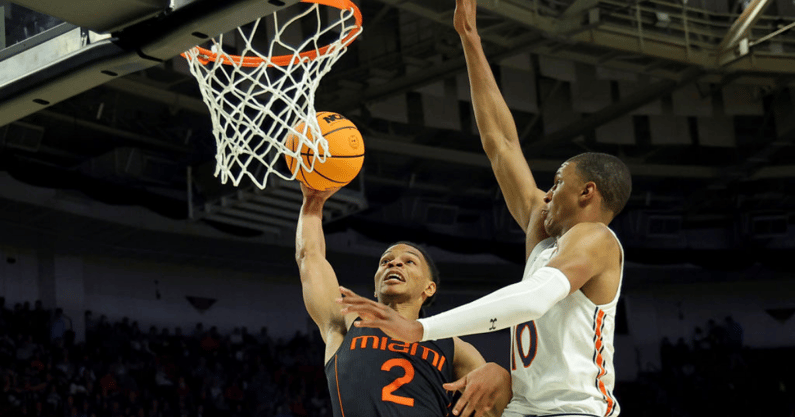 News of Isaiah Wong's reported ultimatum regarding his NIL compensation sent shockwaves across college basketball on Thursday. He responded with a statement on Friday.
According to ESPN's Jonathan Givony reported Thursday that Wong said he'd enter the transfer portal if his NIL compensation didn't increase. Then, Friday, Givony and Dan Murphy reported Wong is staying with the Hurricanes but still going through the NBA Draft process and maintaining his eligibility.
A few hours later, he shared a statement about the situation.
"The recent statements made without any authorization on my behalf do not reflect my views and in no way was I willing to jeopardize my relationship with LifeWallet or the University of Miami," Wong stated. "After discussing the matter with my family I was able to clarify my intentions and resolve any misunderstandings with both organizations and have since agreed to move forward with established agreements made prior to any confusion. My priority is to act with the highest level of character and integrity. Any further statements will be made by me personally."
More on the Isaiah Wong situation
Wong issued his ultimatum to Miami on Thursday, saying he'd enter the transfer portal if his NIL compensation wasn't increased, according to Jonathan Givony and Jeff Borzello of ESPN. His family also stated that Wong will maintain his eligibility in the 2022 NBA Draft and go through the draft process.
Another important note to mention is that the state of Florida's current NIL laws prohibit school employees at Miami from arranging NIL deals for athletes.
Wong has a current NIL deal with LifeWallet and is looking for a raise after watching Nijel Pack sign with the Hurricanes. The former Kansas State star recently announced a two-year, $800,000 deal with LifeWallet and that likely caught Wong's attention. Pack was also given a car in his deal with LifeWallet.