Jim Larranaga compares using transfer portal to Match.com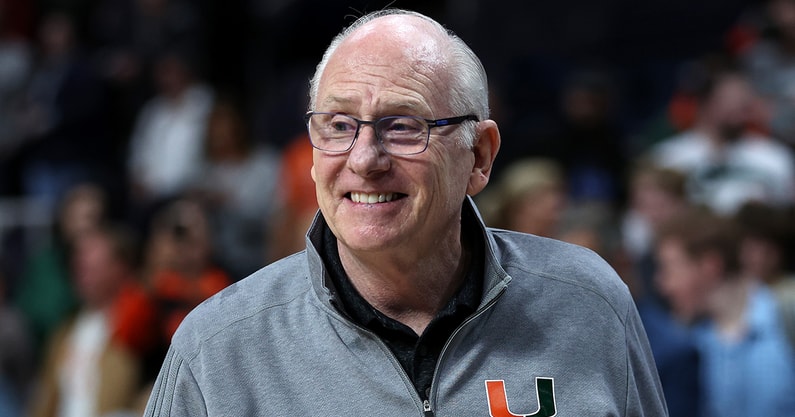 There have been many comparisons for the transfer portal over the last couple years. Free agency is probably the most popular, and the "Wild, Wild West" has been thrown around quite a bit, as well.
But Miami head coach Jim Larranaga shared a new one during his press conference on Thursday.
"This is like speed dating," Larranaga said. "It's like going on Match.com."
Of course, he also offered a quick clarification.
"I have never been on Match.com," he said. "I don't want anybody to get the wrong impression."
The portal window opened for all basketball players March 6, and nearly 600 players have transferred since, according to the On3 Transfer Portal Wire. But the NCAA Tournament is still going strong as the Sweet Sixteen gets underway Thursday night, and Miami is among the teams still left in the field.
Larranaga acknowledged the fact the window opened just after Selection Sunday and the impact the timing has on teams playing in March Madness.
"Yeah, how about that? The more you win, the less you're able to recruit," Larranaga said. "That doesn't really make sense, but it is true. It's a fact.
"While we're playing, our focus is on playing Houston tomorrow night. I think all the teams that have made the Sweet Sixteen, their goal is to move on. Recruiting is a separate challenge. Right now, I don't even know how many guys we'll have back because we may have guys who want to transfer. We don't know."
Last year, Larranaga made a splash in the portal by landing Nijel Pack after he transferred from Kansas State and Norchad Omier following his decision to leave Arkansas State. But Miami didn't lose a player to the portal, meaning the Hurricanes only had to add.
Although he doesn't know if that will be the case again this year, Larranaga said the staff will get to work figuring out how many spots they'll have available and who they could target.
"We were one of only nine teams last year that did not have a single transfer," Larranaga said. "Nine teams out of 363. That's 356 teams that had a transfer. We'll do our due diligence in finding out who might be interested in us and see how many scholarships we have to fill.
"But I think every school has that challenge because the portal for everyone is like recruiting an McDonald's All-American in a fast-forward situation, because the portal starts basically now in this past week or so, and it's only going to last until May. When you recruit high school kids, it starts when they're sophomores, juniors in high school, and you recruit them for a year or two."