Jim Larranaga gives biggest challenges of facing Florida State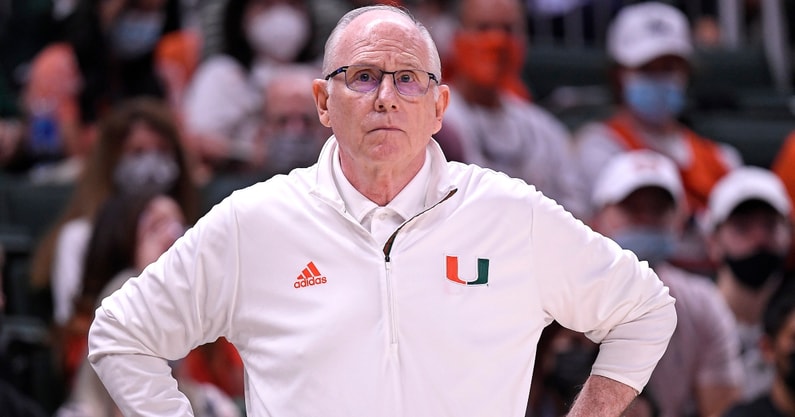 Jim Larranaga and his Miami Hurricanes have another tough ACC road test when they take on their in-state rival, the Florida State Seminoles. Florida State started off the season a bit rocky, to say the least. But as of late, Florida State has found a bit of a groove. And while preparing for the Tuesday night showdown, Larranaga gave his thoughts on the Seminoles and the biggest challenges in facing them.
"Well, I think they finally settled on a starting unit and a rotation and the balance. They've moved Matt Cleveland to the four," said Larranaga. "They've done what a lot of teams have done, including ourselves; they've played a little bit more with just skilled players. Green is such a tremendous three-point shooter. Mills is such a good one-on-one player. Jalen Worley is really delivering the ball to those guys. They're not as big as they've been in the past, but they're much more versatile."
The Hurricanes are looking to bounce back after a close road loss to the Duke Blue Devils. Miami fell at Cameron Indoor Stadium 68-66 in another tight matchup with Duke. While the Hurricanes use a more skilled position lead attack on the court, the Blue Devils were able to survive the top 25 ranked squad courtesy of their rebounding.
Since entering 2023, the Miami Hurricanes have stumbled a bit, going 2-3 in their first five games. The last two losses for head coach Jim Larranaga and the Hurricanes have come the past two weekends against the NC State Wolfpack and Duke Blue Devils. As Miami prepares for their next slate of games including a battle with their instate rival Florida State, Larranaga shared how his team will find more success on the road going forward.
"Well, in all close games, there are several things that you have to do. The first is you really gotta lock down defensively," said Larranaga. "The second you must defensive rebound; you got to control your defensive backwards. You can't give up second shots. That's what hurt us said at Duke late in the game.
"And then, on offense, you can't turn the ball over. You got to execute whatever play you're calling because, normally, at that time, we're calling the set play and trying to get the ball to a specific guy. And we just got to do a little bit better job of finishing. We had several opportunities in the last two weekends, and both times we fell a little short. In previous games, we've won a lot of those this year, either by blocking a