Jim Larranaga reveals how Miami limited Tucker DeVries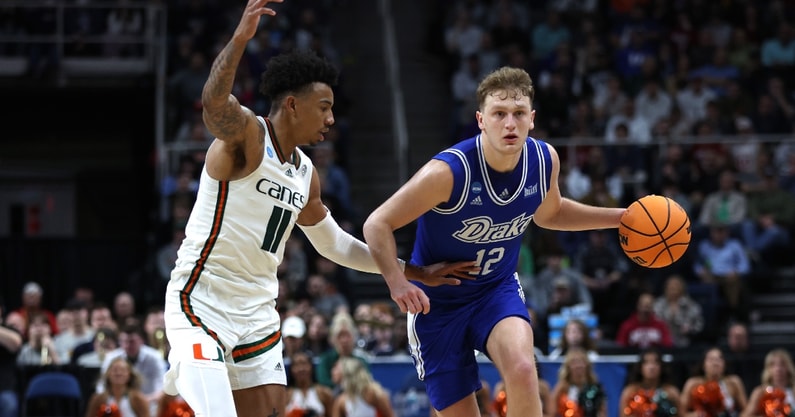 Many thought the Drake Bulldogs stood a tremendous shot at upsetting the Miami Hurricanes on Friday.
Alas, it wasn't to be, as Jim Larranaga's squad pulled out an impressive victory in the end by a score of 63-56. One of the reasons why the Hurricanes are moving on is because of their defense on Bulldogs' star Tucker DeVries, who came into the showdown averaging 18.6 points and 5.7 rebounds per game.
Well, DeVries wouldn't even come close to his usual numbers, as Miami made his life hell throughout the game, and the Drake star only scored three points on the day. While Darnell Brodie picked up some slack with 20 points, it wasn't enough to fend off one of the top teams in the ACC.
Speaking with the media afterwards, Larranaga commended the type of player DeVries is, but he had plenty of praise for his own team for their efforts in guarding him, even naming some of the Miami stars by name as responsible parties.
"There were several guys responsible for guarding him," stated Larranaga. "The one most responsible was Wooga Poplar. So not only did he play a great offensive game, he played a great defensive game. He got rest. Harlond Beverly went in and did a good job on him, same result. Then at the end of the game with Wooga at four fouls, we took him out because we didn't want him to foul out in case we needed him on offense. Jordan Miller went to him and did a terrific job. Then we switched quite a bit, and even Nijel Pack would switch onto him and try to keep him from catching the ball in his sweet spots.
"So overall a great team effort, but a lot of individual efforts too."
Now, Drake is going back to Des Moines, feeling the sting of missed opportunities that Miami levied onto them. As for the Hurricanes, it's a date with Indiana that awaits them on Sunday, and it won't be an easy game for them.
The Hoosiers are coming off a 71-60 victory over Kent State, absolutely taking care of business in their Round of 64 showdown. Both Miami and Indiana believe they have what it takes to make a run, but only one is going to move forward.
Nevertheless, it's evident Jim Larranaga and the Hurricanes have respect for Tucker DeVries and Drake, but they're moving their focus onto Indiana now. Miami will attempt to keep their run going at 8:40 p.m. EST on Sunday night.