Miami lineman Zion Nelson will not play against North Carolina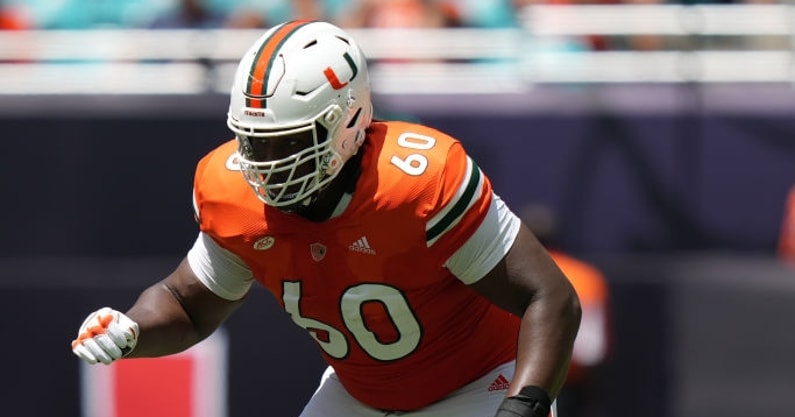 The Miami Hurricanes will face North Carolina on Saturday without one of their star offensive linemen as Zion Nelson will not play. The junior tackle is one of the most prominent fixtures on the Miami offensive line last season, but has only appeared in one game this year as he recovers from a knee procedure.
Zion Nelson out against North Carolina
"Zion Nelson on the Miami sideline in his jersey and shorts," detailed The Athletic's Manny Navarro before the game.
Coming into Saturday's matchup with the 4-1 Tar Heels, Miami coach Mario Cristobal said Nelson's status for the game would be a game-time decision. The 6-foot-5, 316-pound lineman underwent a knee procedure during fall camp and has had a rough time with his recovery. The only appearance Nelson has made for the Hurricane's this season was in Week 3 against Texas A&M.
"I think Zion will be a game-time decision," Cristobal said. "He has gotten work and he does look good, but again we'll rely on the medical staff to give us a final decision on him. Very optimistic on him and his chances."
CLICK HERE to subscribe for FREE to the On3 YouTube channel
Miami opened the year with their offense seemingly on fire, scoring 100 points in their first two games of the season. From there, a 17-9 loss to Texas A&M was followed by a disappointing 45-31 loss to Middle Tennessee. The Hurricanes entered their bye week last week with a 2-2 record, and will look to rebound in a big way against one of the hottest teams in the ACC.
Unfortunately, UNC star quarterback Drake Maye will be a major obstacle to their efforts. Maye's statistics so far this year through five games have been incredible. He's thrown 19 touchdown passes with just one interception while completing 69.7 percent of his passes. Maye averages 318.8 yards through the air per game. Maye also has 255 rush yards and another three touchdowns on the ground.