Manny Diaz suggests athletic director hurt Canes recruiting efforts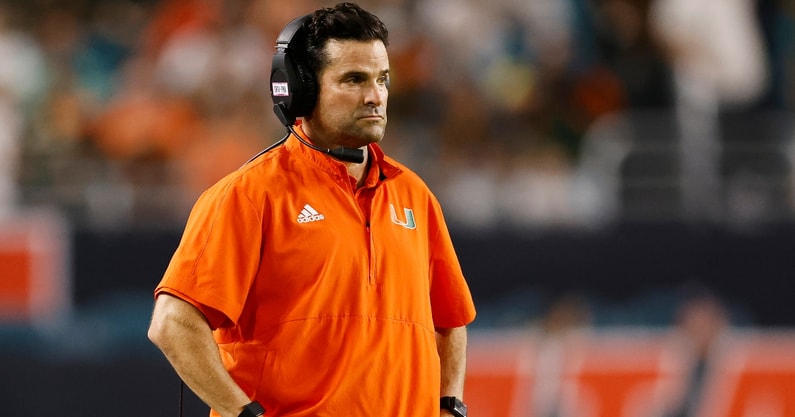 Miami Hurricanes head coach Manny Diaz has a recruiting class to fill but the Canes haven't picked up a new commitment since August.
Asked if whether he thought athletic director Blake James's refusal to put out a vote of confidence for him in October could be factoring in, Diaz said, "I'd imagine."
James told the Miami Herald late last month Manny Diaz "knows we need to win games,'' but declined to say if his job was safe.
"I can't look into the future,'' James said. "I think it's a situation where Manny is our head coach and he's getting the guys ready to play a game tomorrow."
Diaz has since turned things around in a major way for the Canes. Wins over NC State, Pitt and Georgia Tech have the team on the edge of bowl eligibility with three games remaining. However, he said if he were an opposing coach, he'd use the uncertainty between he and the AD as recruiting material.
"If I was coaching at another team … I'm sure our players are getting peppered with those type things, but what we can control right now is winning a game, and that's what we did against NC State, then Pitt and then Georgia Tech," Diaz said. "The thing about college football is that where you stand today is temporary.
"The players see what's real," he continued. "It's a strange time for recruiting. I think some of the things that go into their decision process is a little bit different now than what it was then. They have a lot shorter memory than we think, the recruits of this day and age."
The Hurricanes have eight commitments through Nov. 9. Six of the eight are four-star prospects, per the On3 Consensus. Leading the class is On3 No. 113 Khamauri Rogers, a cornerback out of Mississippi.
Diaz and Miami take on Florida State at 3:30 p.m. ET on Saturday.
Desmond Howard defends Miami, Manny Diaz
College GameDay analyst Desmond Howard defended Miami and Diaz on Saturday's show, pointing out the serious turnaround he has seen this season.
"I tell you what how about Miami," Howard said on GameDay. "We looked at Miami at one point about four weeks ago when they lost against Virginia. They lost against North Carolina, losing both games by only three points."
GameDay analyst Kirk Herbstreit then interjected, saying that Miami has "played hard" over the recent stretch of games.
"That's the key," Howard said. "Don't look at the final score. Look at the actual game. People wanted to get Manny out of there and what did they do? They bounced back. They beat N.C. State. They beat Pitt. Because if you watch the tape, this is a team that's always competed. They play four quarters of football and they play hard, give tremendous effort. People wanted 'Hey get Manny out of there, He can't handle the job.' Now look at Miami."