Mario Cristobal explains decision to leave Oregon for Miami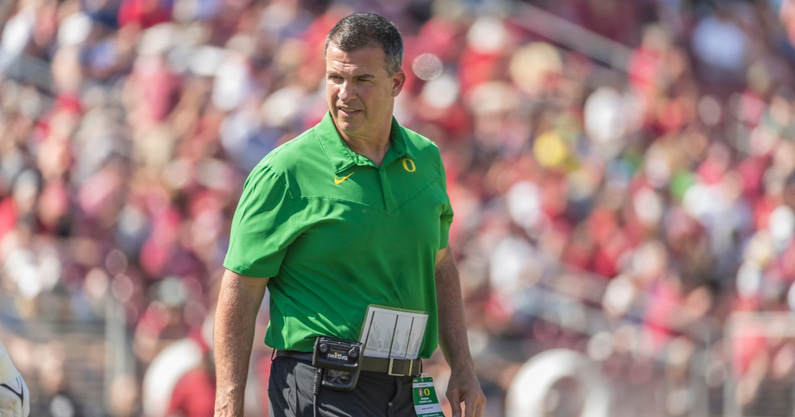 The Miami Hurricanes have officially hired former Oregon Ducks head coach Mario Cristobal. Miami introduced Cristobal in an introductory press conference on Tuesday, where Cristobal went in depth on his decision to leave Oregon to take the Miami job.
Cristobal played his college football at Miami from 1989 to 1992. He was an offensive lineman, and the Hurricanes won two national championships in 1989 and 1991 while he was in Miami.
"Well, I mean to tell you the truth, when I work I work," Cristobal said of his decision to leave Oregon for Miami. "When I was at Oregon, I did not see myself ever leaving because of how much I loved the place and loved the people. I think when you do it right, if this is truly a vocation, when you're at a place you're fully in. And I was given that opportunity and we loved absolutely everything.
"So I guess the best way to say it is, when you have the opportunity to play at a place and then come back and coach there with the experiences that you have had, surrounded by the people and the family that your fondest memories are of, what's more powerful than that in this coaching profession? It doesn't make it easy. I'm being honest, it's difficult because of the time invested. I believe in people and I believe in pouring every ounce into people when you have the chance to make a difference in their life."
Cristobal on coming back to Miami from Oregon: 'You can't draw it up any better'
Cristobal reportedly signed a ten-year deal with a salary of around $8 million per season with Miami. He will also receive "significant investments" around him, including support staff, coaches, recruiting and facilities. Miami must pay Oregon roughly $9 million for Cristobal's buyout.
The last week has been hectic for Cristobal in the midst of making this decision. But Cristobal said that when Miami presented him the opportunity to come back, it was one he couldn't pass up. And he is ready to get to work right away.
"When something like this comes together, you can't draw it up any better. So it's emotional, there's passion behind it, there's drive, there's energy, and there's sense of urgency to get to work right away because you want to get started. Try putting all of those things into one with about 16 shots of Cuban coffee and two hours of sleep and that's what you have."