Mario Cristobal explains starting Jacurri Brown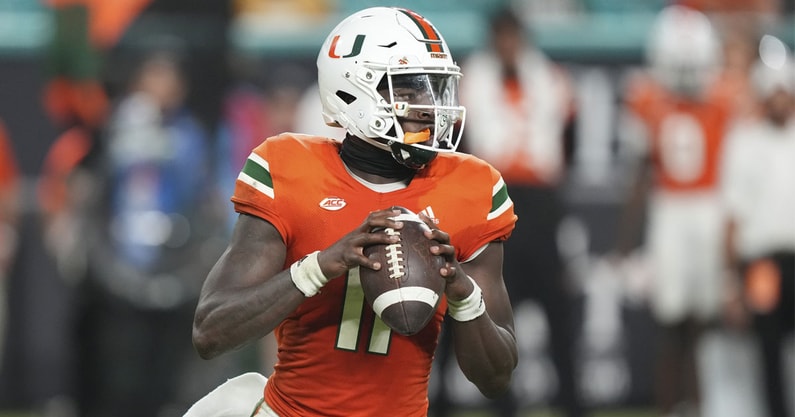 Miami played without starting quarterback Tyler Van Dyke in a 35-14 win over Georgia Tech on Saturday, starting Jacurri Brown instead. Brown performed admirably in the win.
Coach Mario Cristobal explained after the game that his decision to start the freshman had a lot to do with the matchup.
"We knew this team coming in, they do a really good job knocking the ball out," Cristobal said. "If you watch his high school tape he does a good job throwing it, he does a good job running it and he runs it with power, has great ball security. Always has. He did a really nice job today."
Brown finished the game 14-of-19 passing for 136 yards with three touchdowns and no interceptions. He also added 19 carries for 87 yards, helping pace the Hurricanes on the ground.
After a tight first half, Miami blew things open with a 21-point fourth quarter.
Cristobal didn't delve into when he made the decision to start Brown, but it's reasonable to wonder if the freshman might have cemented a bigger role for himself in the future given his performance.
"Yeah I don't think we'll ever talk about when we make those decisions because I don't think it's fair for anybody in the process," Cristobal said.
Will Miami keep starting Jacurri Brown?
The Hurricanes have had a revolving door at quarterback this year, in part due to the injuries to Van Dyke. Starting Jacurri Brown on Saturday was partially a result of Van Dyke's availability, but what happens in the event the more veteran starter returns?
That's a real possibility moving forward, one that Miami will have to grapple with given Brown's performance.
"He's improving, he's improving," Cristobal said after the game on Saturday. "Getting better and better. He's on track to come back to be able to play."
Van Dyke has gone 156-of-245 passing for 1,761 yards and 10 touchdowns, with four interceptions, so far this season. He's been far and away the most productive quarterback, though the Hurricanes have now gotten a decent look at two others, with Jake Garcia also seeing some significant playing time.
Miami still needs to secure one more win to clinch bowl eligibility. It will travel to No. 10 Clemson this weekend before hosting Pittsburgh in the season finale on Nov. 26.