Miami officially announces hiring of Mario Cristobal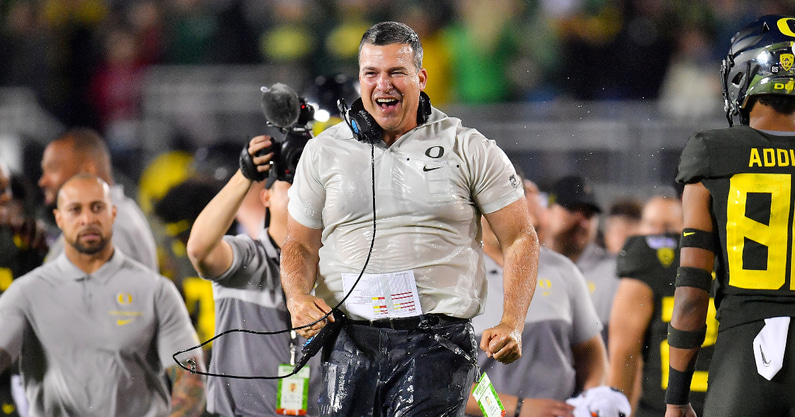 The Miami Hurricanes announced on Twitter Monday that it has hired Oregon head coach Mario Cristobal to take over after Manny Diaz's firing, confirming several earlier reports.
"We are incredibly excited to welcome Mario, his wife, Jessica, and their sons Mario Mateo and Rocco home to Miami," Miami president Julio Frenk said in a press release. "Mario's legacy as a student-athlete at the U is well established. And the standard for competitive excellence that he and his teammates helped establish is one to which we continue to aspire. Our selection, however, was not one based in nostalgia for a proud past, but rather in a bold vision for a promising future.
"The characteristics that helped Mario excel as a national championship-winning player—drive, determination, and discipline—continue to propel his success as a coach. In Mario we have found a head coach who shares our belief in providing student-athletes with the very best opportunities to succeed on and off the field, and our commitment to winning at the highest level."
Cristobal has been linked to Miami for most of the past week, despite Oregon playing in the Pac-12 Championship game Saturday with a bowl game still left on schedule. Cristobal is a Miami native who played for the Hurricanes from 1989-92 before starting his coaching career in 1998 as a graduate assistant. The 51-year old coach spent time on staff from 1998-2000, then again as the tight end coach and offensive line coach from 2004-2006.
"My family and I are excited to return home to the University of Miami, which has been so instrumental in shaping me as a person, player, and coach," Cristobal said. "This program has an unparalleled tradition and an exciting future ahead of it. I can't wait to compete for championships and help mold our student-athletes into leaders on and off the field who will make our University, our community, and our loyal fan base proud."
The whole time that Miami was reportedly pursuing Cristobal, the university did so without a sitting athletic director. All the while, Diaz, Miami's sitting head coach, had not yet been fired. Reports said that Diaz was still on the recruiting trail over the last week, despite the Hurricanes seeking to replace him with Cristobal. Diaz was fired on Monday morning.
Cristobal's contract, salary at Miami unveiled
Miami had to open up its pockets in order to bring back the Hurricanes' alumnus as head coach. Oregon was hoping to retain Cristobal, so Miami had to prepare the better offer sheet, while also paying Cristobal's buyout in Eugene.
Cristobal, according to a report, has signed a 10-year deal with the Miami Hurricanes, which includes a salary of roughly $8 million per season. In addition to his high salary, Cristobal will receive "significant investments for support staff, assistant coaches and recruiting," according to a report, which means Miami will have the "highest assistant coaching pool in the ACC."
Another report indicated that Cristobal's $8 million salary it would have likely been in the $9 million range, if not for Miami having to shave off the buyout for Oregon. That buyout is roughly $9 million, which the Hurricanes must pay the Ducks for Cristobal's departure.