Mario Cristobal's contract details, salary at Miami revealed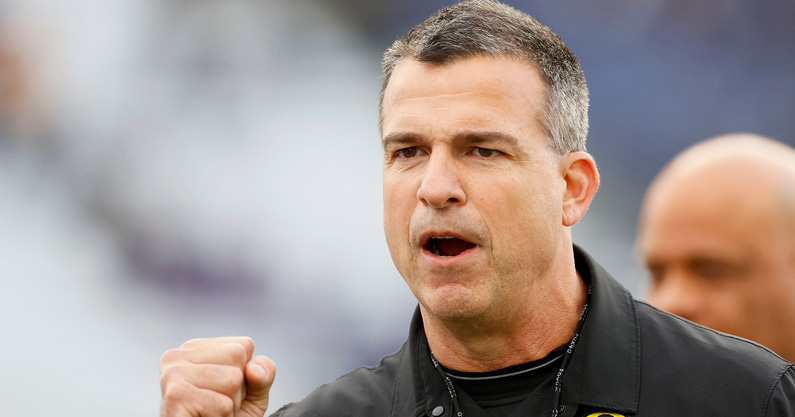 Mario Cristobal put an end to the speculation, rumors and reports surrounding his future at Oregon, as he officially accepted the head coaching job at Miami on Monday.
Miami had to open up its pockets in order to bring back the Hurricanes' alumnus as head coach, too. Oregon was hoping to retain Cristobal, so Miami had to prepare the better offer sheet, while also paying Cristobal's buyout in Eugene.
Cristobal, according to Manny Navaro of The Athletic, has signed a 10-year deal with the Miami Hurricanes, which includes a salary of roughly $8 million per season. In addition to his high salary, Cristobal will receive "significant investments for support staff, assistant coaches and recruiting," according to Navaro, which means Miami will have the "highest assistant coaching pool in the ACC."
According to Ross Dellenger of Sports Illustrated, Cristobal's $8 million salary it would have likely been in the $9 million range, if not for Miami having to shave off the buyout for Oregon. That buyout is roughly $9 million, which the Hurricanes must pay the Ducks for Cristobal's departure.
Cristobal will replace Manny Diaz, who was fired on Monday morning. It appeared as though Miami was waiting for Cristobal to give an official word before parting ways with Diaz.
Miami puts end to strange coaching situation, hires Cristobal and fires Diaz
Cristobal has been linked to Miami for most of the past week, despite Oregon playing in the Pac-12 Championship game Saturday with a bowl game still left on schedule. A previous report from Barry Jackson said that as of Sunday morning, Cristobal and Miami negotiations for a deal that pays around $8 million per year, with the duration set for "longer than five years." Plus, as Jackson noted, Cristobal is not expected to come alone. Reports said that Miami was set to replace athletic director Blake James with Clemson's Dan Radakovich, and Jackson said that he would come to Miami with Cristobal unless "somebody gets cold feet."
Cristobal is a Miami native who played for the Hurricanes from 1989-92 before starting his coaching career in 1998 as a graduate assistant. The 51-year old coach spent time on staff from 1998-2000, then again as the tight end coach and offensive line coach from 2004-2006.
The whole time that Miami was reportedly pursuing Cristobal, the university did so without a sitting athletic director. All the while, Diaz, Miami's sitting head coach, had not yet been fired. Reports said that Diaz was still on the recruiting trail over the last week, despite the Hurricanes seeking to replace him with Cristobal. Diaz was fired on Monday morning.
After Oregon lost 38-10 to Utah in the Pac-12 Championship game, reporters asked Cristobal whether there was any validity to the Miami rumors. He did not quite rule it out.
"I would say if there's something to report, I will report it. I always have," Cristobal said. "Over the years, because certain things are put out there or not. Every year our entire staff, whether behind the scenes, whether public or not, we've always had different people come for our people, including myself, and how the media treats it and how they choose to posture it, I have no control. As I just mentioned, that's the extent of it."