Mario Cristobal provides injury updates on Tyler Van Dyke, Henry Parrish, others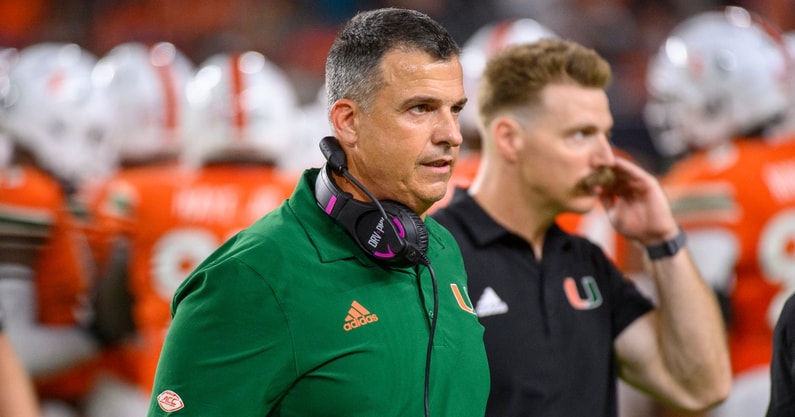 Miami head coach Mario Cristobal provided a brief injury update to some of his key players as the Hurricanes head into a marquee matchup versus No. 10 Clemson this weekend. Cristobal started off by giving injury updates on running back Henry Parrish, defensive lineman Leonard Taylor, and offensive lineman Jalen Rivers.
"I don't know, I'll know a little bit more later today. I feel good about Henry Parrish, I feel good about Leonard Taylor, I feel that Jalen has a chance sooner than later," Cristobal said.
Parish is currently the Hurricanes leading rusher and his addition back into the lineup would be huge for Miami's next matchup against one of the ACC's best defenses.
CLICK HERE to subscribe for FREE to the On3 YouTube channel
Another great addition would be star quarterback Tyler Van Dyke, who missed the Hurricane's last game against Georgia Tech after re-aggravating an injury to his throwing shoulder in their game against Florida State the week prior.
"He's doing really well also, so I think all these guys they're right at the cusp," Cristobal said about Van Dyke and others. "I think Leonard and Henry are ahead of the other two, but the two are right there where we feel that they've got a great shot to play Saturday."
Cristobal was also asked about the status of three of his defensive lineman, as Elijah Roberts, Jacob Lichtenstein, and Jared Harrison-Hunte have all been battling injuries.
"I feel good about Elijah, Jake I think is gonna take a little bit longer, Harrison-Hunte I would put him in the same category as TVD and as Jalen Rivers," Crisotbal.
Lastly, Cristobal gave an update on running back Don Chaney, who has missed the entire season with a lower-body injury and after missing the final ten games of last season after suffering a torn ACL.
"He's practicing full speed, so we'll see what this thing looks like throughout the course of the week," Cristobal said.
There are certainly a lot of question marks at a lot of different positions for the Hurricanes regarding their health, and it will definitely be interesting to see who will be able to suit up for Miami as they head into the finale of their season with just two games remaining and bowl eligibility on the line.