Mario Cristobal, Kevin Steele comment as Miami hiring made official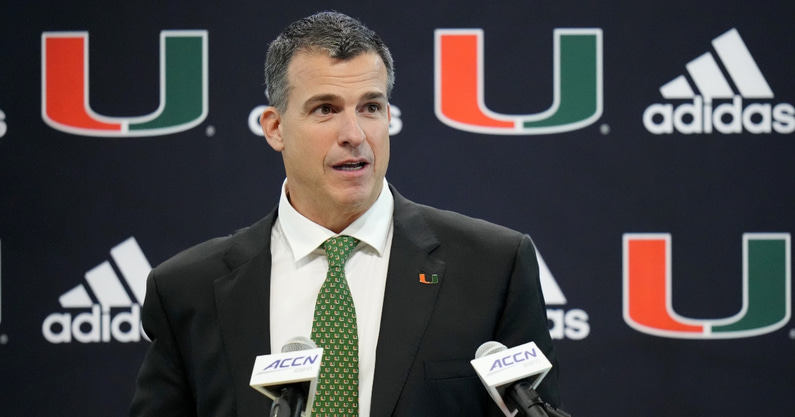 It may have taken Miami Hurricanes head coach Mario Cristobal some time to find his coordinators but he knocked it out of the park, on paper. Kevin Steele got the call as defensive coordinator and the school officially announced his hiring on Wednesday.
Cristobal talked about why Steele was the right choice for the job in a statement. He said the new defensive coordinator will make an impact on the entire Miami program, not just the defense.
"A Miami Hurricanes defense should always be defined by its physicality and toughness, which are two traits of every Kevin Steele-coached defense," Cristobal said. "Coach Steele has recruited, developed and produced at an elite level at every stop of his career, and I'm confident he will implement a defense that will make Hurricanes fans and alumni proud.
"Coach Steele will help elevate the culture of not only our defense, but our team as a whole, and I know he will make his impact felt on the identity of our program."
Steele himself got to explain the exact mentality he will be bringing to Coral Gables. He said scheme can be important but first and foremost, there has to be buy-in on the fundamentals from his players.
"My defensive philosophy fits what people desire to recapture at the University of Miami," Steele said. "Philosophically, defense from the era I grew up in mirrors some of the things of the past teams here – it's based on relentless effort, physical and mental toughness and tackling. We'll never have a meeting where those three things are not talked about.
"There are things that are schematically important to any defense, whether we're pressuring, playing press man coverage or whatever it might be. That's all in a different library book. The first book you have to read is about relentless effort, physical and mental toughness, and tackling. If you do those three things on defense, you're well on your way."