Nijel Pack shares key to Miami's game-ending run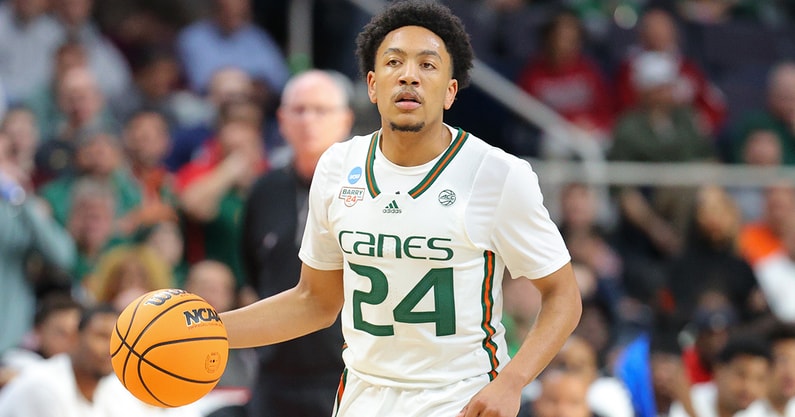 It looked like Drake was going to pull off the upset of Miami as its lead grew to 55-47 with 5:40 to play. Then, the Hurricanes opened up a 16-1 run to complete the comeback and advance to the Round of 32 with a 63-56 victory.
The under-four minute media timeout came at a good time for the Hurricanes, who cut the deficit to six points at the time. In that huddle, the players found new life, and Nijel Pack was one of the ringleaders. The former Kansas State star said the group came together to pick up the intensity and keep the Drake offense at bay.
"We went to the last media timeout, and I was like, 'Man, this can't be the way how it ends,'" Pack said. "I talked to my teammates. I felt like they felt the same way. We kind of brought some inner energy from within us. We picked up our defensive pressure, we were able to pressure them and get some steals and kind of put them on their heels. We kind of got the ball rolling and we were able to get to a tie game.
"Then, we had to make a big shot and get a stop. That's what it came down to, making big shots and then ended up getting our free throws to close the game out."
Pack helped lead the charge on offense, scoring a game-high 21 points to lead Miami. Norchad Ormier also had a strong showing with 12 points and 14 rebounds. Those are solid performances considering Drake ranked in the top 50 in adjusted defensive efficiency, according to KenPom.
Hurricanes coach Jim Larranaga knew how tough Drake would be on defense. He said the Bulldogs brought the toughest defense he'd seen all year, which is why he was so impressed with his team's performance.
"I really have a lot of faith in my guys, AJ," Larranaga said to sideline reporter AJ Ross. "And we needed to figure some things out at halftime, we did. Nijel Pack, Wooga Poplar, they really stepped up. And we made some free throws down the stretch. It's a great win. That's the best defensive team I think we've faced this year."
Now, Miami is preparing to try and make another Sweet Sixteen. The Hurricanes have go through No. 4 seed Indiana, though, and that game tips off Sunday at 8:40 p.m. ET on TNT.