Mario Cristobal calls Zion Nelson status a 'gameday decision'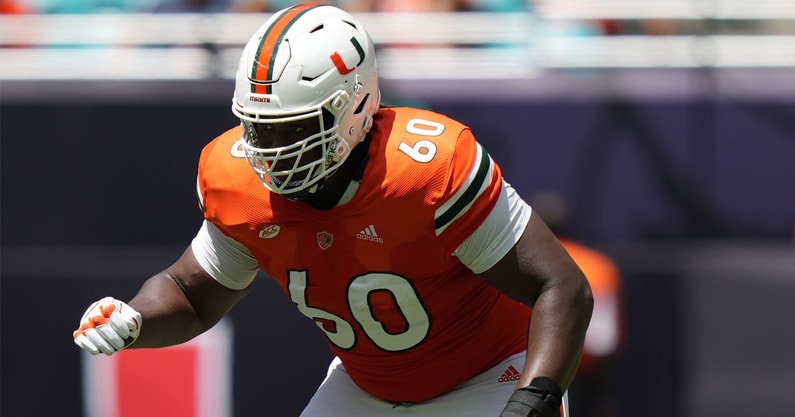 Miami and first-year coach Mario Cristobal are out to halt a three-game losing skid this weekend, hitting the road to take on Virginia Tech. Could the Hurricanes get veteran offensive tackle Zion Nelson back?
The fourth-year junior has appeared in only one game this season as he recovers from a knee procedure. Cristobal provided a midweek update on Wednesday.
"There is none at the moment," Cristobal said. "Zion is working hard to get back on the field as soon as he can but right now it's a gameday decision."
Nelson was also listed as a game-time decision against North Carolina last weekend but was ruled out just prior to the team's 27-24 loss to the Tar Heels.
Miami quarterback Tyler Van Dyke has been inconsistent this season without one of his key blockers up front, though he had a strong passing outing last weekend. Van Dyke finished with 496 yards passing and threw for three touchdowns in the loss.
Nelson was a staple on the offensive line a year ago as Van Dyke emerged as one of the top quarterbacks in the ACC. He started all 12 games at left tackle. He had logged 32 career starts going into the 2022 season for Miami.
With or without offensive tackle Zion Nelson, Miami must start quicker
One key theme for the Hurricanes during the current three-game losing streak has been starting slow.
Miami has fallen behind early and had to dig itself out of holes as the offense attempts to get its feet under it and into the flow of the game. Texas A&M led 17-3 in the second quarter, MTSU led 24-3 in the second quarter and North Carolina stormed out to a 14-0 lead midway through the second quarter last week.
While Nelson would obviously help some, he's far from an instant Band-Aid to those issues.
"We feel that in so many ways we've improved the resiliency of our football team, but some of the things that come with a slow start, sometimes it's formational," Cristobal said. "I mean every single time you play a team there's gonna be a wrinkle, there's going to be a new adjustment that may take you a play, a series, hopefully not much longer than that but sometimes it does take a quarter and a half to get adjusted and play at the level you're capable of.
"So we immediately get them to the sideline, settle them down, settle down those eyes, those nerves, and we think the best way always to do that is to get right back to focus, to technique, to fundamentals, and to assignment, cut out all the other stuff. Don't let the mind drift, social media ain't part of this, this is football and everything you do on the field's gonna make the difference."
Miami and Virginia Tech will kick off Saturday at 12:30 p.m. ET with a broadcast slated to stream on ESPN+.