Tyler Van Dyke assesses his confidence in Miami receivers after recent injuries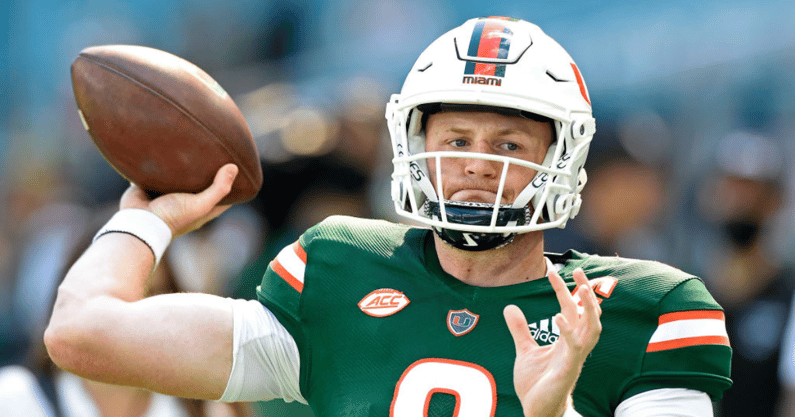 After losing to Texas A&M and losing leading receiver Xavier Restrepo for six weeks, the Miami Hurricanes are in a bit of a bind offensively. Quarterback Tyler Van Dyke spoke this week about his role in helping other receivers step up as the Canes prep for a game versus Middle Tennessee State on Saturday.
"Most of these guys get one reps in practice, we rotate a good amount just to make sure they know what they're doing," Van Dyke said. "I have a good relationship with all those guys… I know guys will step up. They're out here working and I just have to give them a little more confidence. Tell them I trust them and they'll be able to do the job."
CLICK HERE to subscribe for FREE to the On3 YouTube channel
Restrepo was far and away Miami's leading receiver at the time he went down with the injury. In two games, he had 172 receptions and a touchdown.
Miami struggles to finish drives versus Texas A&M
In Saturday's game, Van Dyke's leading pass-catcher was TE Will Mallory with six grabs for 56 yards. However, the Canes spread the ball around, with eight players catching at least one pass.
Brashard Smith, who works in the slot, is the top candidate to take over on some plays that would have starred Restrepo. As a backup so far, he had two catches for 12 yards in Game 1 and was No. 2 on the team in Week 2 with four receptions for 53 yards. Versus Texas A&M, Smith had three catches for 14 yards.
"We have an inexperienced group (at receiver/tight end) outside of Mallory," offensive coordinator Josh Gattis said this week. "The challenge for us is we have six guys playing (receiver), that's all we have. A very thin scholarship situation. I don't know another school in the country with this limited amount of wide receivers available to them.
"We're looking for someone to step up."
Mario Cristobal discusses the impact of losing Xavier Restrepo
On Monday, the 'Canes skipper discussed the impact of losing the star wideout for potentially half of the season.
"Xavier's obviously an excellent football player," Cristobal said, "and on top of that, he's an alpha, he's a leader. He's a guy that we certainly count on in a lot of different ways, from a culture standpoint, from a performance standpoint.
"And a guy that Tyler Van Dyke really leans on. He's going to be gone for a little bit so, in the meantime, he's got to be a great leader. And the rest of that room, we have to work with him and get the best out of every single player to elevate our performance in the passing game."
On Saturday, the Hurricanes went 5-for-14 on third down and 0-1 on fourth down while Van Dyke finished with a 51% completion rate.