Tyler Van Dyke likely out, Jacurri Brown reportedly will start Saturday for Miami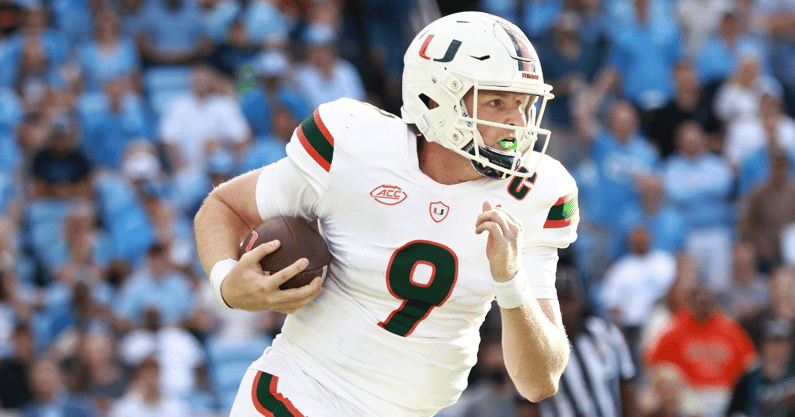 Miami is once again likely to be without starting quarterback Tyler Van Dyke today as the Hurricanes take on No. 9 Clemson. The news came from ESPN's college football insider, Pete Thamel, who posted this report to Twitter:
"Source: Miami quarterback Tyler Van Dyke expected to be out again today at Clemson. Jacurri Brown expected to start again for the Hurricanes. Brown threw three touchdowns in a win over Georgia Tech last week."
So Brown to get the nod in TVD's absence this time around. Previously, the other backup QB, Jake Garcia, has gotten a few starts and a lot of snaps while Van Dyke has been out with his shoulder injury. However, Brown has come on strong as of late and was excellent against Georgia Tech last week, so head coach Mario Cristobal opted to go with him over Garcia this time around.
Partially because Brown provides a dual threat ability that Garcia simply doesn't. The easiest way to illustrate the difference in their abilities to run is just looking at the season stats. Jacurri Brown has ran the ball 42 times already this season (in limited action, mind you) and has over 200 yards on the year, and is the fourth-highest rusher on the whole team. Meanwhile, Garcia has a grand total of -46 rushing yards to his name this season, with almost all of his rushing attempts being sacks — a sign that he struggles to get away from pressure in the pocket.
So Coach Cristobal goes with the athletic true freshman once again. With Van Dyke still out and potentially turning pro at the end of the year, Brown could very well be the future of the position for the 'Canes.