What position groups must help Tyler Van Dyke in 2023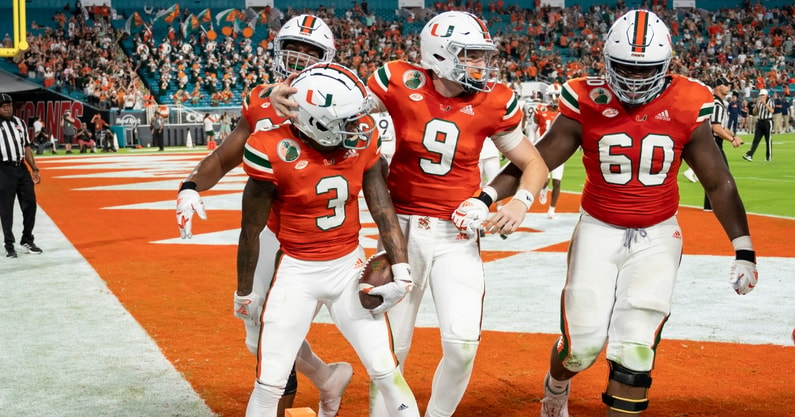 On3's JD PicKell recently reviewed the expectations surrounding the Miami Hurricanes for their upcoming 2023 season. The college football expert sees the Hurricanes bouncing back from the tumultuous 5-7 mark from 2022. And a large part of why he believes that will be possible is because of Miami's quarterback Tyler Van Dyke.
On a recent episode of The Hard Count, PicKell explained why he believes the Hurricanes quarterback will have a bounce-back year in 2023.
"Another reason why I believe Tyler Van Dyke is gonna be substantially better in 2023; you look at what he had last year on the offensive line, and again I'm not here to dunk on the offensive line, but we judge you by your resume. And the resume last year for this O-line wasn't great," said PicKell. "There's a reason that Mario Cristóbal went to the portal and got himself two offensive linemen in Javion Cohen and Matt Lee, who I believe are going to start – a reason why Francis Mauigoa is getting first-team reps as a true freshman at tackle. There's a reason for all that; because last year wasn't good enough.
"Going back to the resume, the sack rate for Miami was 8.5 percent of the offensive staff Miami was taken last year ended in a sack. It doesn't take a rocket scientist to know that's not great. And that makes Tyler Van Dyke's job a whole heck of a lot harder."
The Hurricanes' offensive line gave up a whopping 36 sacks on the season. That averages out to allowing three sacks per contest. And that is one of the prominent reasons why Van Dyke and true freshman quarterback Jakari Brown found themselves dinged up last season.
"In not buying that, he became a worse quarterback from 21' to 22'. I don't believe it. I do believe his job got harder because he had much less time to deliver the ball to his playmakers. And make matters worse, his playmakers didn't do him a whole lot of favors. Miami dropped 25 passes last year… that's right around two drops a game. That ain't great. It's not winning football. So this is the key variable for me for Tyler Van Dyke in terms of being successful in 23… with that being said, now receivers, we gotta step up. 25 drops in 2022, it's not gonna cut it."
"So some guys, I'm looking to have good seasons in 23 Xavier Restrepo. Back healthy, you would hope for the duration of 23. He is that alpha dog at wide receiver. Reliable, durable in the slot for them, (and) goes over the middle. I like him a lot… Ray-Ray Joseph, a youngin' who I think could have a big impact. Somebody has to step up for this group."

Restrepo was limited to six games last season as he struggled with a foot injury for much of the season. The first game the Hurricanes' junior wideout missed was their huge top-25 matchup against the Texas A&M Aggies. Entering the game, Restrepo was Miami's leading receiver with 11 catches on 12 targets for 172 yards. He would finish the year with 21 receptions for 240 yards and two touchdowns.
Ray-Ray Joseph, on the other hand, is a part of Miami's talented 2023 recruiting class. He has been wowing coaches and his teammates throughout the spring and is likely to contribute early in his freshman year.
"Somebody has to be the guy that can separate consistently, catch the football, and be the reliable target for Tyler Van Dyke. Because if you don't have someone to catch the rock for you, well, then the quarterback is gonna look bad, and that happened a lot last year.
"I think Tyler Van Dyke is set for a really strong bounce-back year in 2023. And I think Miami will reap the dividends of that," said PicKell.
All-in-all, PicKell believes these issues will be solved this season for the Miami Hurricanes. And that would go a long into Cristobal's resurrection of the program.