LT Zion Nelson ruled out for Miami's game vs Middle Tennessee State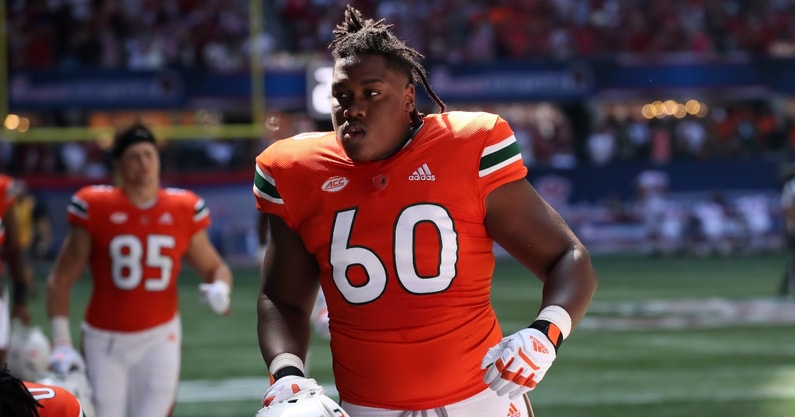 After playing last week for Miami, Zion Nelson will miss the Hurricanes' game against Middle Tennessee State on Saturday. DJ Scaife is working out at right tackle in his place, according to The Athletic's Manny Navarro.
Nelson played last week against Texas A&M after missing Miami's first two games of the season. As a sophomore last season, he started all 12 games for the Hurricanes before undergoing a cleanup surgery over the offseason and missing the beginning of the year.
CLICK HERE to subscribe for FREE to the On3 YouTube channel
Nelson was an honorable mention All-ACC selection in 2021 and played a key role on the Miami offensive line. He could play another big part again this season in Cristobal's first year at the helm, and his name is already coming up in NFL Draft circles.
Miami is coming off its first loss of the season to Texas A&M last week, but will try to get back on track against Middle Tennessee State Saturday at 3:30 p.m. ET.
Tyler Van Dyke assesses his confidence in Miami receivers after recent injuries
After losing to Texas A&M and losing leading receiver Xavier Restrepo for six weeks, the Miami Hurricanes are in a bit of a bind offensively. Quarterback Tyler Van Dyke spoke this week about his role in helping other receivers step up as the Canes prep for a game versus Middle Tennessee State on Saturday.
"Most of these guys get one reps in practice, we rotate a good amount just to make sure they know what they're doing," Van Dyke said. "I have a good relationship with all those guys… I know guys will step up. They're out here working and I just have to give them a little more confidence. Tell them I trust them and they'll be able to do the job."
Restrepo was far and away Miami's leading receiver at the time he went down with the injury. In two games, he had 172 receptions and a touchdown.