JD PicKell: Breaking down why Michigan State lost Keon Coleman, Payton Thorne to transfer portal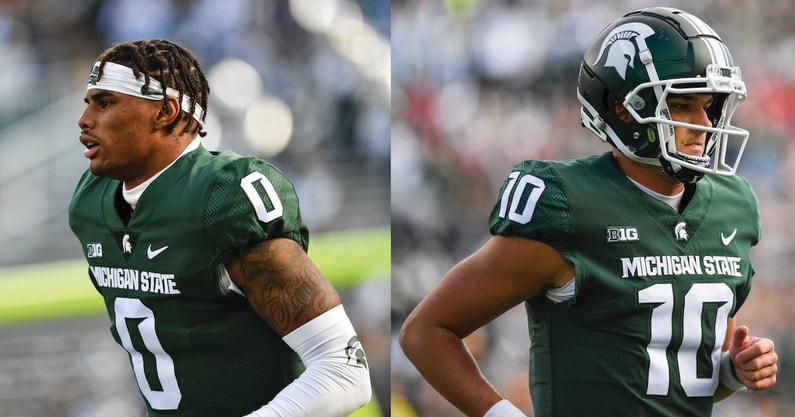 Michigan State took a major blow with quarterback Payton Thorne and wideout Keon Coleman hitting the transfer portal on the last possible day to enter in the April window. And On3's J.D. PicKell breaks down some of the reasons for their respective departures.
They left for different reasons, but they're all rooted in one reality: Both players think they can better find what they're looking for — or need — somewhere else. PicKell added that both players would've preferred to stay at Michigan State, but felt circumstances ultimately dictated they get in the portal.
"So both these guys are in the portal, both these guys, big-time players for Michigan State and I believe would have contributed in some form or fashion. Whether Payton Thorne was your starter or not. He would've been a depth piece for you, at the very least. And at best your starting quarterback. Keon Coleman, would've been your best offensive weapon. It's not ideal for these guys to be in the portal for you. What I want to make clear though is, neither of these guys wants to be in the portal. Neither of these guys want to leave Michigan State, they want to come back, but they have their own respective reasons as to why they're in the portal right now," PicKell said.
CLICK HERE to subscribe to the On3 YouTube channel today for all of the latest news on college football, recruiting, NIL, more!
Coleman's reason for entering the portal is pretty straight forward, PicKell said. He's seeking an NIL payout that apparently isn't going to come at Michigan State.
"Keon Coleman, to put it bluntly, essentially feels like he is worth a certain amount and wants to test the open market because Michigan State isn't able to meet that amount," PicKell said.
Coleman was comfortably the Spartans best offensive weapon until he got in the portal. The third-year receiver was set to build on a 2022 season where he caught 58 passes for 798 yards and seven touchdowns. And as a former four-star recruit and standing 6-feet, 4-inches tall, Coleman is a likely prospect for the 2024 or 2025 NFL Draft, depending on the 2023 season.
Thorne's departure is more nuanced, according to PicKell. He speculates that there are a number of reasons that Thorne might head to the portal. For one, he might have been beaten out in the spring quarterback competition and is trying to go where he can play. He could also be seeking what he feels is better prep for the NFL.
PicKell ultimately suspects it's some confluence of several factors, and that opening up the quarterback competition on a two-year starter might have backfired on the Spartans.
"You can't help but wonder, though, if you're Payton Thorne saying, 'Hey man, a year ago, I led us to an 11-win season.' If I were him, I would want the benefit of the doubt to believe that I was your starting quarterback," PicKell said. "And you couple that with the potential of, 'Well hey, if I'm not appreciated here, the grass is probably greener somewhere else. Maybe I can get some more NIL dollars somewhere else.' Again, we're speculating, but that could be one scenario as to why he jumps in the portal."
No matter the reason, the bottom line is bad for Michigan State: The Spartans most experienced quarterback and best offensive weapon entered the transfer portal at the end of spring.