Lawyer of Michigan State player snaps back at judge over bond, takes jab at Juwan Howard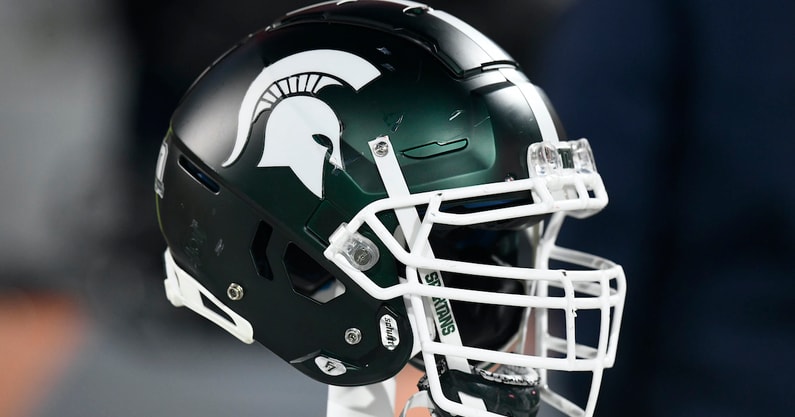 Five Michigan State football players were arraigned on misdemeanor charges stemming from the tunnel fight at Michigan Stadium on Oct. 29 after the Michigan-Michigan State football game. And proceedings were, at time, quite tense.
According to a report by Tony Paul of The Detroit News, an attorney representing an MSU player pushed back against assertions that the five MSU players — Itayvion Brown, Angelo Grose, Justin White, Brandon Wright and Zion Young — were a danger to anyone. The lawyer drew a direct comparison to Michigan basketball head coach Juwan Howard, who infamously slapped a Wisconsin assistant coach near the end of a game in Madison last season and got a five-game suspension.
"To put these conditions on these kids and treat them as though they are a danger to anyone at the University of Michigan outside of the context of a highly emotional sporting event, when we don't even know the facts of what the impetus was for this, I think is extreme," said Wade Fink, an attorney representing Brown in the proceedings. "You're talking about a highly emotional situation. There is nothing to suggest that Mr. Brown is a danger to anyone, quite the opposite. … I take issue that he is a danger to the University of Michigan, their coaches, their players, outside of the context of a fight that happens all the time."
"I don't remember coach Juwan Howard being prevented from contacting the University of Wisconsin. I'm just a little troubled by the heavy-handedness of it, Judge. But that is your right," Fink continued during the virtual court appearance.
Judge Tamara Garwood of Ann Arbor's 15th District Court shot back at the Howard comparison — Howard didn't face any criminal charges for the incident and if he had, any appearance in court wouldn't have been before Garwood.
"Juwan Howard did not come in front of me," Garwood said. "Had he come in front of me, had that happened here and he was in front of me, he likely would've ended up with similar conditions."
Lawyers for the Michigan State players had said during the arraignment that Washtenaw County prosecutor Eli Savit, the elected official who ultimately made the charging decision, requested drug and alcohol testing for the five players being arraigned, but that Garwood turned down Savit's request. Savit clarified to The News after the arraignment, saying that his office had not requested drug and alcohol testing as a condition for bond. The prosecutor's office request only that the charged players can't have firearms or any contact with the alleged victims. Savit didn't request a complete no-contact order, he said.
Each player was ultimately given a $10,000 personal recognizance bond and are scheduled to be back in court on Dec. 15 for a pretrial date before a different judge.
The two other players charged as a result of the fight, Jacoby Windmon (misdemeanor) and Khary Crump (felony) were arraigned earlier in the week.