Michigan State offense provides eye-popping statistic against Rutgers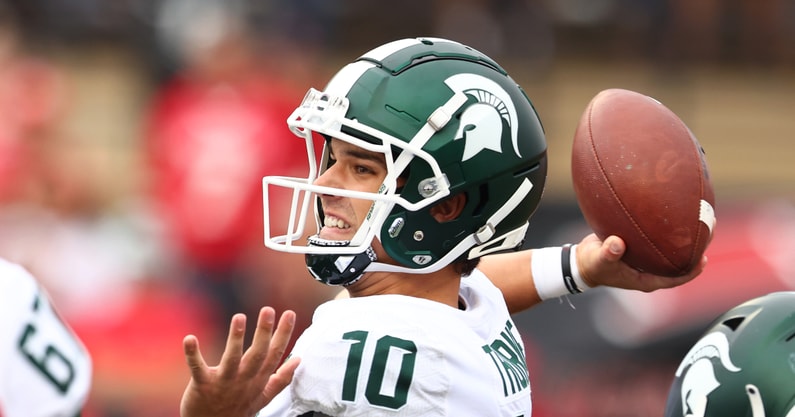 The No. 11 Michigan State Spartans are now 6-0 after a 31-13 win over Rutgers on Saturday, and Mel Tucker has the Spartans off to the program's best start since 2015.
Michigan State's win over Rutgers was more than just a victory over a lowly Big Ten opponent. In an offensive outburst, the Spartans' offensive unit put on a show: quarterback Payton Thorne threw for 339 yards, three touchdowns and one interception, completing 16 of his 27 passing attempts; running back Kenneth Walker III rushed for 233 yards and a touchdown on 29 carries; and wide receiver Jalen Nailor had five receptions for 221 yards and three touchdowns.
The trio of Thorne, Walker and Nailor pulled off a near-improbable feat. In the process, Michigan State became the fifth team in FBS history to have a 300-yard passer, 200-yard rusher and 200-yard receiver in a single game, according to FOX Sports.
In just Tucker's second season at the helm, the Michigan State Spartans' offense is humming due in large part to Walker, the Wake Forest transfer. Walker is averaging 6.8 yards per carry and has a total of eight touchdowns this season, leading the Spartans offensive attack with 680 total rushing yards. His name has been thrown into the Heisman Trophy conversation, and his draft stock is increasing by the week. 
Michigan State's defense was solid against Rutgers, too. Quarterback Noah Vedral was able to muster just 208 passing yards after completing 16 of his 31 passing attempts, and no Rutgers rusher could manage to pick up much on the ground. The leader, Isaih Pacheco, had just 47 rushing yards on 11 carries. Rutgers also fumbled twice, both courtesy of Vedral, and the Scarlet Knights were able to recover just one of the lost balls.
Although Rutgers converted six of its 17 third-down attempts, the offense wasn't half as effective as that tally may suggest. Averaging just 3.1 yards per rush, the ground game hankered Rutgers' offense against Michigan State. The Scarlet Knights were unable to get the production they needed to fully lean on the passing game, throwing just 266 total yards, and they fell vastly short of the Spartans. With the loss, Rutgers moved to 3-3 overall and 0-3 in Big Ten play.
In total, Michigan State is averaging 37.8 points per game, nearly double last year's average of 18, which was last in the Big Ten. The run game improvement is even greater, jumping from 91.4 yards per contest in 2020 to 215.5 so far this season behind only Michigan and Ohio State in the conference. 
Furthermore, sophomore quarterback Payton Thorne has impressed so far in the 2021 campaign, leading the Michigan State offense to new heights. He's thrown for 1,236 passing yards, holding a 63 percent completion rate, and has thrown 11 touchdowns with just one interception.