Two key Michigan State players didn't make trip to Purdue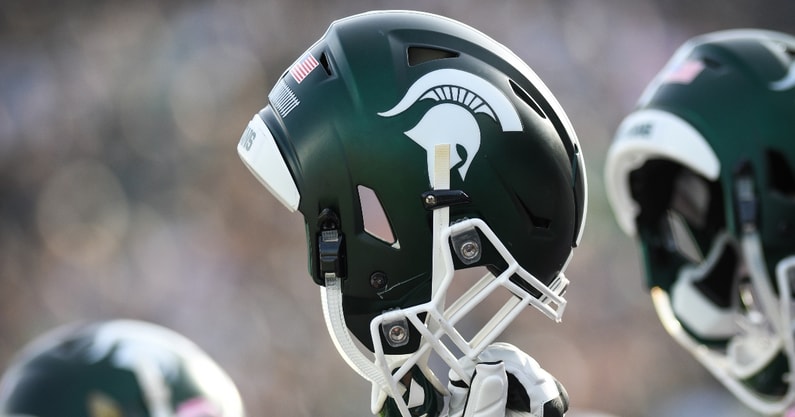 Two prominent Michigan State players didn't make the trip to Purdue for Saturday's game, the school confirmed.
Wide receiver Jalen Nailor and starting left tackle Jarrett Horst are not with the Spartans for the Big Ten showdown, according to Matt Charboneau of The Detroit News.
Losing Nailor is huge for Michigan State. He's the Spartans' No. 2 wide receiver, averaging 73.4 yards per game. But he's also a big part of the special teams, which are averaging a Big Ten-best 23.2 punt return yards per game. They still have Jayden Reed, but Payton Thorne is down another key option in the passing game.
Horst's absence will certainly impact pass protection and the run game. Kenneth Walker III is the nation's leading rusher, but losing some key protection on the offensive line could impact his performance against Purdue. That'll certainly be something to watch as the day goes on.
Michigan State is coming off a thrilling 37-33 win over Michigan last week at Spartan Stadium. The victory moved the Spartans to 8-0 on the season and put them at No. 3 in the first College Football Playoff rankings.
Purdue and Michigan State are currently getting set to face off on ABC.
David Pollack explains why Michigan State can avoid an upset
On College Football Live this week, ESPN analyst David Pollack said Michigan State has one big thing going for it: its head coach.
"The good thing is Mel Tucker's used to this," Pollack told Desmond Howard and host Wendi Nix. "He's been, recently, at Georgia … he was with Alabama. He's played in plenty of big games and he knows what to tell his guys. But getting your guys focused is another thing.
It's easy to get up for Michigan. We'll see what kind of maturity they have now the next week, getting up for Purdue. It is good, at least, that Purdue has a knack for upsets. Mel could try to bang that drum for them to help them out and try to keep them focused."
That's true. Purdue has a history of big upsets — including one already this year.
The Boilermakers went into Iowa and defeated the Hawkeyes 24-7 on Oct. 16. Three years ago in 2018, Purdue pulled off top-3 stunner by beating No. 2 Ohio State 49-20. Jeff Brohm's group has a history of big these types of upsets, which is why it might not be an easy one for Michigan State.
But as Pollack said, Tucker has been here before. It's going to be interesting.