QB Luke Nickel earns first college offer from Michigan State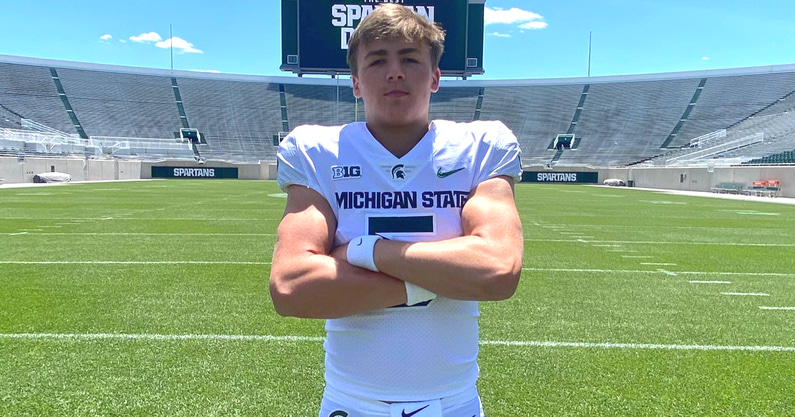 Alpharetta (Ga.) Milton freshman quarterback Luke Nickel has his first scholarship offer. The 6-foot-2, 195-pound signal-called picked up the offer from Michigan State on Saturday.
The Spartans already have a commitment from Nickel's older brother, Jack Nickel, a tight end. The opportunity is intriguing for Nickel.
"It's nice knowing that my brother is going to Michigan State because if he likes the school and I feel it's right it makes it an easy decision," Nickel said.
The offer from the Spartans came as a bit of a surprise.
"It caught me by surprise a little bit, I was shocked, and it was a good moment," Nickel said. "It means a lot since it's something that I've been working for."
Nickel was on the Michigan State campus twice this summer. He joined his brother on his official visit on June 4. Nickel returned for a camp later in the summer.
Nickel has begun forming his own relationships and opinion of the Spartans. He has spent time with the program this summer.
"When I visited both times in the summer I really fell in love with the school and the coaching staff was really great," Nickel said. "They told me I have a strong arm for my age, they like how accurate I am and how tough and competitive I am. They told me that they think I'd fit well in their offense as a quarterback, and they think I fit the pro-style pretty well."
Luke Nickel ahead of the recruiting process
The younger of the Nickel brothers has been watching and learning over the last few years in preparation for his recruitment.
He plays for a team that is full of future Power 5 players at Milton. As a result, Nickel got a head start on the recruiting process.
"He's always taken me on his visits so that I can see what the coaches would say to him," Nickel said. "I'm just coming along and listening so that I'm prepared when it's my turn."