Report: Michigan State forward Malik Hall out against Alabama, likely sidelined for extended period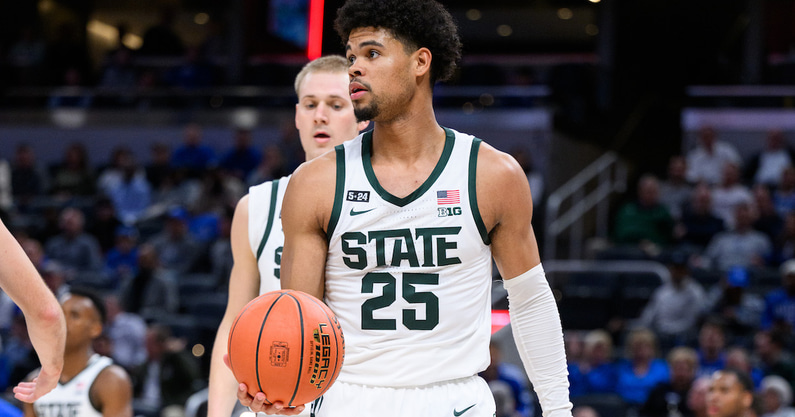 Michigan State will be without at least one — and potentially two — of its top six rotation players in the Phil Knight Invitational (also known as the PK80) opener against Alabama on Thursday night according to Brendan Quinn of The Athletic. Senior forward Malik Hall is out with a foot injury and expected to miss the entirety of the PK80 and potentially weeks, according to Quinn.
Along with Hall, sixth-man sophomore guard Jaden Akins is "doubtful" to play against the Crimson Tide.
Hall is the Spartans No. 3 scorer through four games, averaging 12 points a contest behind only Joey Hauser and Tyson Walker. Akins has averaged 6.8 points per game, but is the only bench player to average more than 20 minutes a game for Michigan State.
CLICK HERE to subscribe for FREE to the On3 YouTube channel
With Hall and potentially Akins sidelined, Michigan State will dip into a raw, inexperienced bench to fill the vacated minutes. Sophomore forward Pierre Brooks is the obvious choice to fill in for Hall in the starting lineup and a trio of true freshmen — forward Jaxon Kohler, center Carson Cooper and guard Tre Holloman — should also be candidates for extended run against Alabama.
As Michigan State is banged up, Alabama is getting healthier
Alabama had an unexpected appearance in their latest basketball game when guard Jahvon Quinerly made an appearance late in their game versus South Alabama after suffering a torn ACL in the NCAA Tournament earlier this year. Quinerly's return was a pleasant surprise and a quick turnaround, as head coach Nate Oats detailed his player's journey back onto the court.
"Look I'll say this, we've got the, I think, the best doctors in the country up at Andrew's. Dr.Kane did his surgery, one he's great. We've got probably the best trainer in the country in Clarke (Holter), I mean he's in there with these guys six in the morning all the time. They're in the pool, the underwater treadmill doing all the work, and then Henry (Barrera) our strength coach has been working with JQ on the side for two or three months now, I mean all the way back to the summer," Oats explained.
Quinerly clearly had a strong team supporting him in his recovery that paid off, as he continued to work behind the scenes in the offseason working his way back on the court.
"So I think between JQ's desire to get back, and he's back for another year of college trying to prove he can make it to the next level, and then with the best people around him," Oats said. "We were hoping to get him back by Michigan State then he just kept pushing the envelope, he's been on the practice squad the last couple weeks being a scout player."