Tom Izzo admits Michigan State was fatigued in Indiana game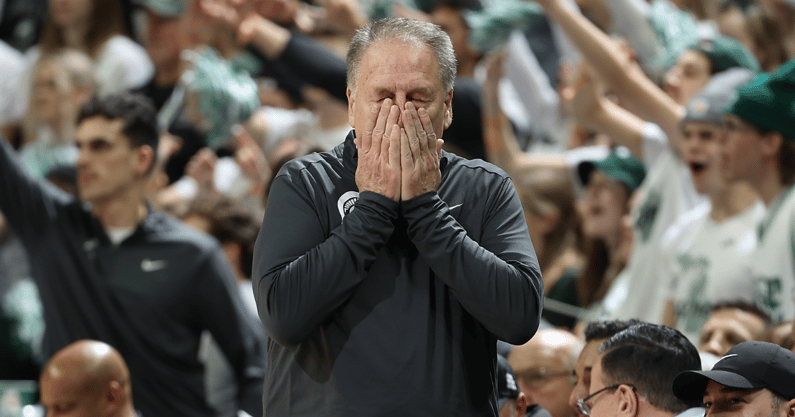 Michigan State is on a bit of a backslide as Big Ten play is now in full swing. The Spartans just completed perhaps the most difficult week of conference play that any team in the country will face this year. Because of the novelty standalone mid-afternoon game against Purdue last Monday on Martin Luther King Jr. Day, the Spartans wound up playing three games in seven days, and faced some of the conference's best.
That Purdue game was a 40-minute war where they came up just short. Then Michigan State rebounded to hold serve at home against another extremely physical team in Rutgers. Lastly, Sunday featured a trip to Bloomington for a road game vs. a desperate Hoosier squad. So it's reasonable to assume fatigue ultimately played some factor as the Spartans ran out of gas at Indiana, where they surrendered one of their worst defensive performances of the season.
Here was head coach Tom Izzo after the loss to the Hoosiers, expelling on the effects of finishing up such a brutal stretch of the schedule:
"Yeah, I think the six games in 16 days caught up to us a little bit, too, especially guys like Joey (Hauser). AJ (Hoggard) a little bit, although AJ got a lot of rest in the first half, still played 27 minutes, but he was out 10 minutes. That's what I mean about rotations, so then we're playing him almost the whole second half. Tre (Holloman) did some uncharacteristic things when we told him what to do, so we didn't feel as comfortable with him the second half. He didn't do a bad job, but he's been playing pretty well. Jaxon (Kohler) did some nice things on offense and struggles a little bit on defense. If he can score, you can do that. But those guys are getting better, him and Carson. I think we needed AJ and Jaden in the game and we needed Tyson (Walker) to be 70%."
So not everybody is healthy at the moment for Tom Izzo and Sparty. It's tough playing three games in a week, and especially grueling when key players already aren't 100%. Still a ton of runway left in league play for MSU to get back on track. Hopefully some extra rest will lead to the necessary boost here soon.