Tom Izzo explains Michigan State's problems doubling the post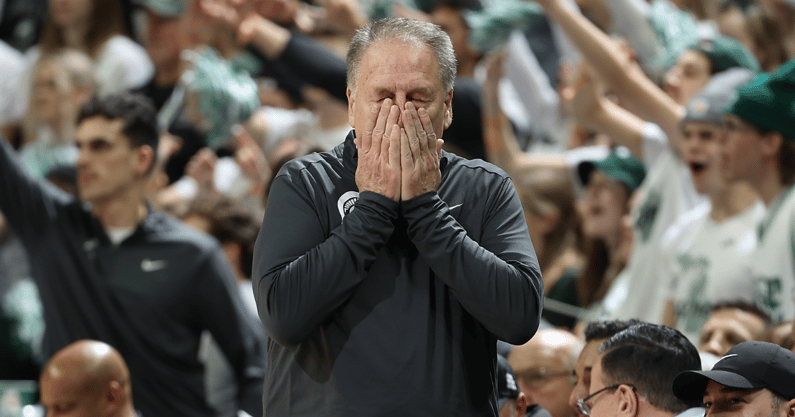 Michigan State had one of its toughest post matchups of the season Sunday going against Indiana and its star big Trayce Jackson-Davis.
Jackson-Davis is one of the best players in the country. Stopping him is no easy task.
But the Spartans defense couldn't handle the 6-foot-9 senior. Jackson-Davis popped off for 31 points and 15 rebounds. He was 10-for-20 from the field and 11 of 13 from the free throw line as the Hoosiers won 82-69.
Michigan State coach Tom Izzo talked after the game about the strategy to defend Jackson-Davis in the post.
"We mixed it up today," Izzo said. "We doubled a little bit. We couldn't double at the four because they're so good on the weak side so we doubled with a guard. We were supposed to rotate then we dug in there we had some success digging in there. Now once you double and you reverse it and guys don't make shots you're good. Against Purdue, they didn't make shots."
While Purdue might not have made those shots when the Spartans played the Boilermakers earlier in the month, Purdue did come out a 64-63 win.
Boilermakers center Zach Edey, who is also one of the best players in the country, also dominated the game from the post against Michigan State. The 7-foot-4 big finished the game with 32 points and 17 rebounds. He was 13 of 26 from the field and 6-for-7 from the charity stripe.
The Spartans did play the game closer than against the Hoosiers. Purdue only won the game by a score of 64-63 despite Edey's performance.
Michigan State play both Purdue and Indiana again before the end of the regular season. The Spartans take on the Boilermakers this forthcoming weekend in West Lafayette, Ind., and will play the Hoosiers at home on Feb. 21.