Tom Izzo 'proud' of Michigan State's effort against Indiana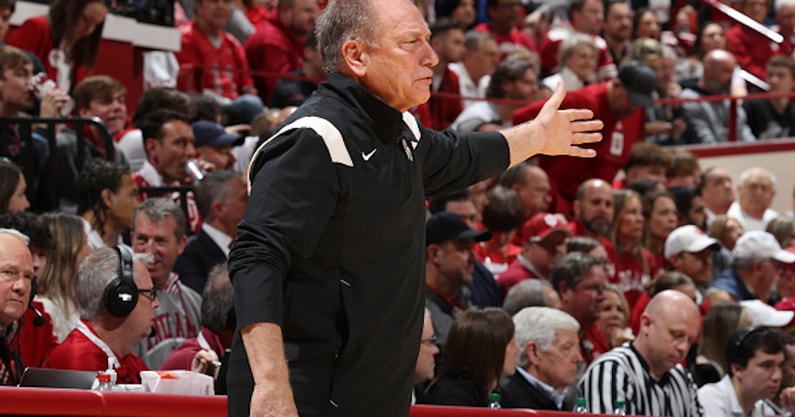 Michigan State coach Tom Izzo was proud of his Spartans despite an 82-69 loss to Big Ten foe Indiana.
The Spartans trailed 37-32 at halftime and could not recover in the final 20 minutes. Regardless, Izzo gave his squad props.
Despite the head coach being proud, the Michigan State effort was not enough in the team's seventh loss of the season.
"I thought we competed during a lot of it," Izzo said postgame "I think when you had Joey (Hauser) and AJ (Hoggard) in there the whole time they just kind of weared out. It didn't look like they were wearing out but (they were a) step slow here, step slow there. They forgot to X-out on a big play that they hit a big three on. 
"He follows the guy with four seconds left on the shot clock, you know, in a goofy play, they miss a free throw. We pride ourselves in that they get a free throw and hit a shot. I think we've missed like two free throw cut outs on the year." 
Despite the cliche of "proud," the Michigan State coach used that phrase to describe the effort.
"I know this sounds stupid, but I am proud of the way we competed under the circumstances," Izzo said. "We didn't get much time and Tyson (Walker) … And he played. He played a lot of minutes. I'm just telling you. He played 32 minutes. I apologized to him three times. We just had no choice and we should (been ready for that), Tre (Holloman) was struggling before the half.
Walker ended up playing over 32 minutes and finished the game with just eight points, two rebounds and two assists. Holloman had two rebounds in 13 minutes of play.
Indiana led by 7 at 62-55 with 7:47 left when the Hoosiers hit a third-chance field goal which ignited a 10-2, game-changing run ending with a pair of Trayce Jackson-Davis free throws and a sudden 15-point lead at  72-57 with 5:17 to go.
The third-chance trip was a back-breaker for Michigan State. Leading by seven and Jackson-Davis missing a free throw after a media timeout,  Indiana power forward Jordan Geronimo subtly but strongly pushed Hauser under the rim and kept the rebound alive for fellow Hoosier Miller Kopp to save it to a teammate. 
CLICK HERE to subscribe for FREE to the On3 YouTube channel
Michigan State (13-7) returns to action Thursday at home against Iowa (12-7) at 7:00 p.m. ET.